ABOUT US
KDRAMADIARY is a digital publication focusing on news, recaps, and reviews of K-Dramas, C-Dramas and other Asian Dramas. Our team also covers local and international concerts, fan meetings and other events. We also feature Korea travel stories and K-Drama filming locations.
Email kdramadiary.official@gmail.com for Media Kit.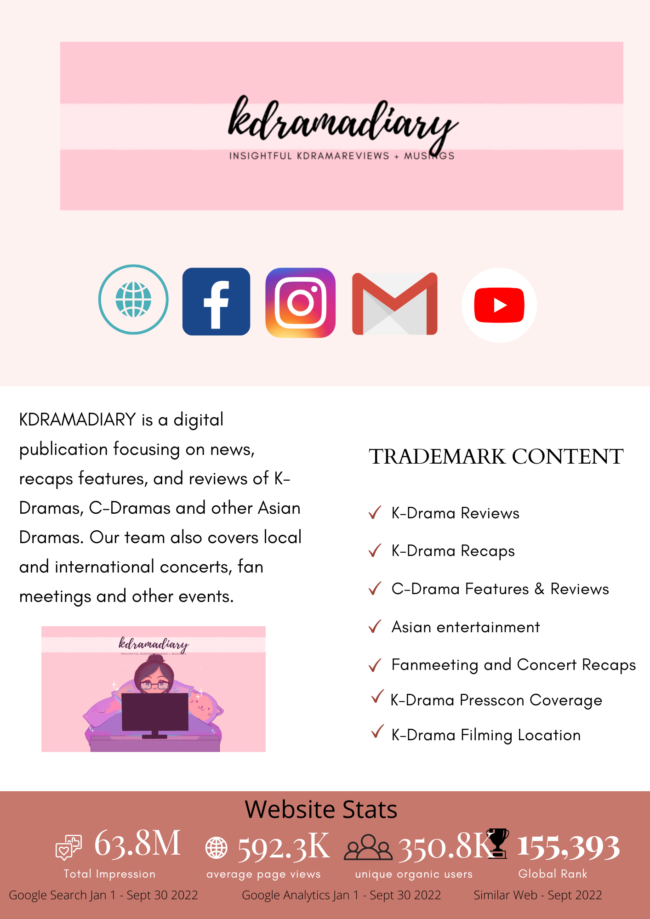 ---
Social Media Platforms
For Media Partnership Requests Email:
kdramadiary.official@gmail.com
For All Other Requests Email:
abbyinhallyuland@gmail.com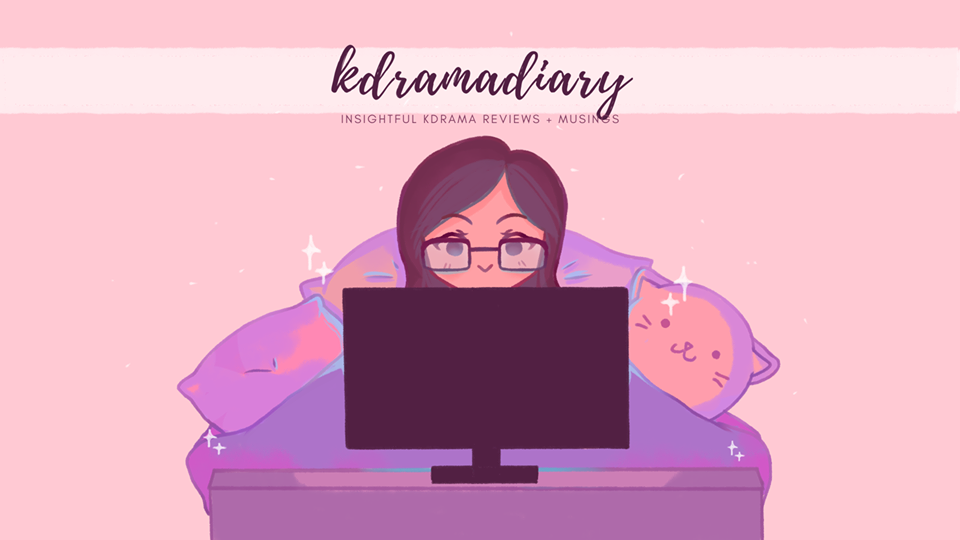 ---
Support Us
To help keep this site running, we would appreciate monetary gifts if you have been enjoying what we write here.
---
Content Creation Services
We are open to freelance jobs in content writing, proofreading, social media management, and project management. Our writing niche is Asian entertainment, but we can write other topics too.
You may email us at abbyinhallyuland@gmail.com or kdramadiary.official@gmail.com if you are keen to work with us.
---
Join Our Team
No reader or Asian drama fan looking for recommendations wants to read reviews that are concocted from various websites. With that in mind, KDRAMADIARY invites fellow Asian drama fans to submit their insightful reviews of current and past Asian Dramas.
Your submission should be something that has NOT BEEN PUBLISHED yet on KDRAMADIARY. You may submit Korean, Chinese, Japanese, Taiwanese, Thai, and other Asian drama content.
Make sure that it is PLAGIARISM-FREE and if previously published on your blog, should at least be altered to follow the tone of KDRAMADIARY. 
As we aim to be a website with deftly written reviews, we greatly acknowledge and believe that only TRUE fans can impart the message of Asian drama stories.
We are driven to publish reviews that would encourage Asian drama watching. Thus, we want to be a review site with credible writers who write REAL REVIEWS of dramas that were watched diligently.
Rest assured that your name will be visibly cited in the article that will be published.
To submit your review, you can email it to kdramadiary.official@gmail.com. In the subject line please follow the format: REVIEW SUBMISSION (Name of the Drama).
Please email it in Word format and attach photos to be inserted in the article as well as YouTube links of the official OST MV/trailer. The review should be written following the format set by KDRAMADIARY. It should include a Drama Details box, Plot Recap, Series Highlights, and Series Musings.
Please refer to the review page for more guidance.
For fellow Asian drama fans who consistently submit reviews, please send a letter of intent to the same email above if you wish to join the team. The Managing Editor will review it and will respond accordingly.