TVING's original series Island, bannered by Kim Nam Gil, Lee Da Hee and Cha Eun Woo, drops a compelling teaser poster and trailer.
Based on a webtoon of the same name by Yoon In-wan and Yang Kyung-il, Island is a fantasy action drama that depicts the journey of characters destined to fight against the evil that is trying to destroy the world.
Announcing the adventure of the three characters who must face their respective fates, the teaser poster commands attention.
Containing the image of a 금강저 (vajra/geumgangjo) aiming at the center of "ISLAND" – the picture evokes a mysterious and somber mood. Along with that are dark clouds and fragments of flames giving off faint light that heightens the mystical mood.
The Journey To Save The Island
In the drama, Kim Nam Gil portrays Ban as an immortal half-human. He battles evil on an island in preparation for the end of the world, but he simultaneously battles humanity.
Next, Lee Da Hee plays chaebol and teacher Won Mi-ho who has become self-sufficient on Jeju Island without knowing her fate. She gets attacked by monsters for the first time in her life leading to a new exciting and vibrant story.
Lastly, Cha Eun Woo transforms into the youngest exorcist on earth, John. He was dispatched to Jeju Island in a special direction amplifying the fantasy action with Ban and Mi-ho.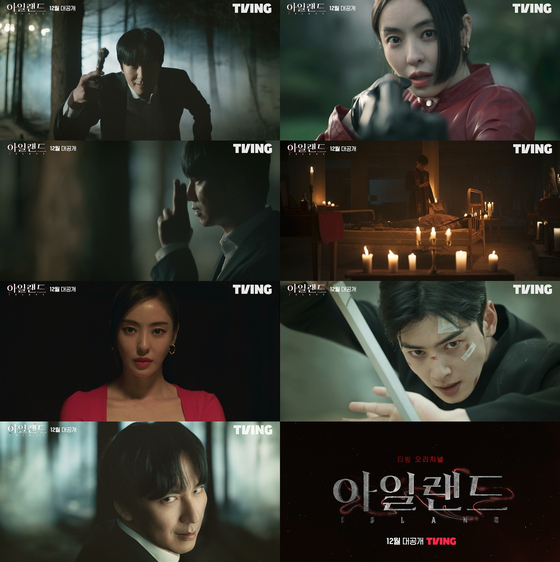 Subsequently, the first video introducing the lead characters of Island attracts attention.
Ban appears in a black suit with a mysterious demeanor and sets out against evil with his intense eyes with geumgangjo.
Then, Mi-ho aimed a gun at someone with a third-generation chaebol bravado.
Exuding power, John wields a magical staff and wears a priest's clothing heightening the excitement further.
Island will be released in December. International fans can watch it on Amazon Prime Video!
---
Source: JTBC News | xports news
Photos/Video: TVING