At a recent press meeting, Song Kang unveils his preparations and conveys his definition of love through his character in Nevertheless.
Unveiling this June 19, popular webtoon series Nevertheless come alive through the work of director Kim Ga Ram. Led by Han So Hee and Song Kang, the bittersweet story highlights a hyperrealistic school romance.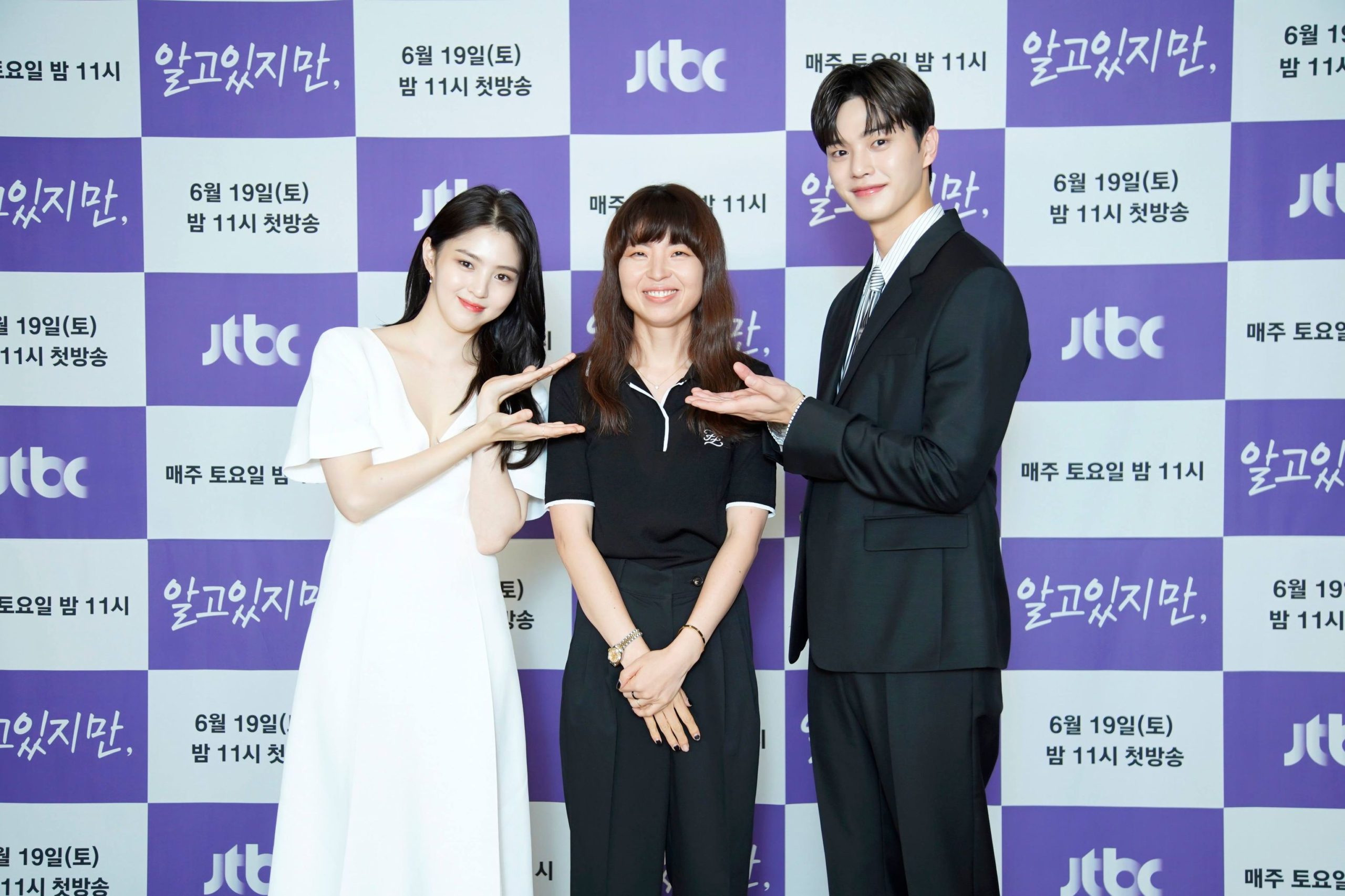 They share their process and charm on detailing why Nevertheless stood out from other dramas. With recent releases of teasers and photo stills, fans noticed the heart-fluttering chemistry of the lead stars developed. 
Nevertheless narrates the stories of art students Yoo Na Bi (Han So Hee) and Park Jae Eon (Song Kang). With a bitter past, Yoo Na Bi is afraid of falling in love again. As she encounters the cold but attractive Park Jae Eon, they start to believe in love and trust again. 
---
On accepting a fresh and challenging role as Park Jae Eon 
Since Song Kang made himself known in Sweet Home and Love Alarm, he also recently made another notable portrayal in Navillera. 
For him, Navillera becomes a platform for him to learn. Creating different chemistry with Park In Hwan, Song Kang reveals that the chemistry in Nevertheless "can be described as a great friendship."
"I think we were able to create a relationship and also relate to each other because we are the same age. So we were able to create this connection with the young characters as well."
When asked why Song Kang chose his next role in Nevertheless, he shares that the series has a "different kind of romance."
Many fans, and the director herself, thinks that Song Kang perfectly fits as Park Jae Eon. But for him, he scores his similarity with his character as half and half. 
In addition, the actor reveals that portraying Park Jae Eon is difficult for him. Song Kang stated, "Jae Eon doesn't usually talk about what he feels inside. It was kind of difficult to portray his emotions, not just the lines, but what he feels. His anger, his sadness, his happiness, are not shown through him. He's that kind of character."
---
One spoon of Jae Eon to Song Kang and one spoon of Song Kang to Jae Eon
When Song Kang accepted the role, he confessed that he made a lot of effort and thought to execute Jae Eon. With the help and confidence of director Kim Ga Ram, he successfully pulls off Jae Eon's personality. 
"I wanted to make sure that the cold and icy part of me was portrayed. Jae Eon is someone you can't describe. And I wanted to make sure that I portrayed this part of him. I've put a lot of thought into that."
Accepting the role as Park Jae Eon is new to Song Kang. The actor put an effort and lost five kilograms to look sharper like the character. 
Furthermore, as the actor dives deep into his character, Song Kang shared that Jae Eon's weakness is love. "Jae Eon is a character who thinks being in a relationship is frivolous. But he still seeks out romance." 
"He has a sense of fear and processes his growth as he meets Na Bi; I think that's something the audience would be happy to see," he reveals. 
---
On finding love, friendship, and interests in 
Nevertheless
Park Jae Eon is a character where relationships are a bother for him but also seeks them naturally. In filming and creating chemistry on the set, Song Kang finds new friendships and hobbies. 
When he heard that Han So Hee is working with him, Song Kang is surprised. He remarked, "From her appearance, she looks very alike with Na Bi. And her facial expressions also kind of look like Na Bi's. I'm very much taken by surprise. She has this kind of ambiance and has that very frank personality. So I was happy to hear that she's going to act with me."
As the result of their chemistry that soon unveils, he compliments So Hee with her flexible attitude in acting. 
Portraying as an art student, he took an interest in art and studies metal and glass art. Though art is challenging for the actor, he got hooked and enjoyed his newfound hobby. 
Finally, Song Kang shared his most heart-fluttering scene on Nevertheless. "I think it's the moment when I first saw Na Bi. Anything that's a first is always something that gets stuck in your mind. When Jae Eon saw Na Bi for the first time, it's the most heart-fluttering moment and got stuck in my mind, " Song Kang warmly expresses.
Song Kang invites and hopes everyone to welcome every charming character on Nevertheless. Created with different viewpoints and stories about love, Neverthelessdefinitely features a roller coaster of emotions. 
Premiering this June 19, learn to fall in love again every Saturday at 11 PM KST on Netflix. 
In case you missed it, check out our live Twitter coverage of the recent Nevertheless press conference below.
We're going to cover Nevertheless APAC Press Con at 1 PM PHT! Stay tuned for live tweets with #SongKang and #HanSoHee sharing their insights about their latest series. 😉😎#Nevertheless starts streaming on June 20 at 12 midnight PHT on Netflix.✨

🔗https://t.co/MQuoCM6IyX pic.twitter.com/fod3zQ1Muw

— kdramadiary (@kdramadiarylogs) June 18, 2021
---
All photos courtesy of Netflix