KBS2 TV unveils a group poster for School 2021, the network's upcoming Wednesday-Thursday series.
School 2021 threads on the lives of 18-year-old students going on a different route from the usual university entrance examination. Chasing dreams, forming friendships and embarking on a challenging journey, these teenagers stand on ambiguous grounds.
It also foreshadows the perfect synergy across generations of brilliant young and seasoned actors. In addition, a sweet romance is also anticipated between the lead pair.
The group poster released today shows the students making the 'School 2021' logo and the woodworking club teacher Jeon Seok Ho proudly introducing the results.
As everyone worked together to complete the logo, curiosity grows about the bright, hopeful, and sometimes realistic story they will draw together.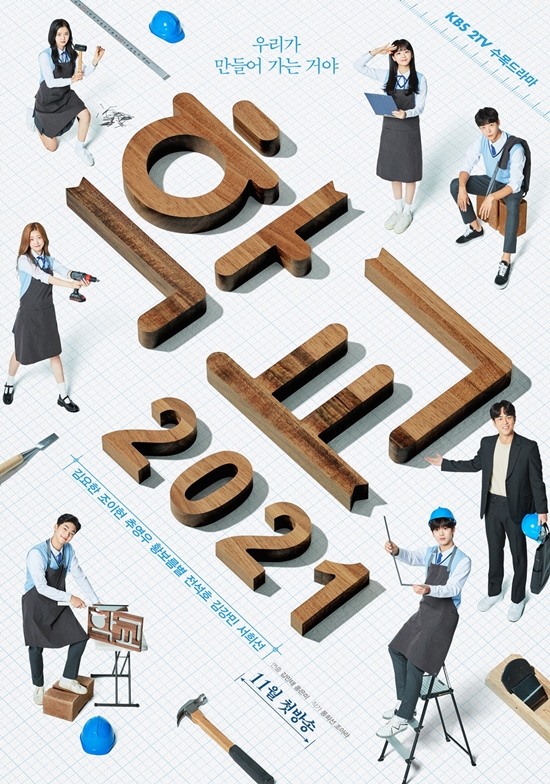 Kim Yo Han wearing a hard hat and holding a ruler plays Gong Ki-joon searching for a dream. Jo Yi Hyun holding a drawing with a smile portrays Jin Ji-won whose dream is designing.
Chu Young Woo sitting carelessly on a wooden block is Jung Young-joo who looks expressionless yet charismatic. He is a transfer student who nurses scars and secrets. He also shares tangled relationships due to past events with Ki-joon.
Hwang Boreum-byeol, who holds a hammer characterizes the interesting Kang Seo-young. She has realized the coldness of reality earlier than others. Thus, she has clear plans on how she will chase her dreams.
Next, Kim Kang Min, who saws with a bright smile hints at being the story's mood maker. He plays the role of optimistic Ji Ho-seong.
Rounding up the School 2021 youth cast is Seo Hee Sun, who nails coolly with an electric drill, boasts perfect synergy with Go Eun-bi, who wants to dream confidently.
Jun Seok Ho, who proudly presents the six students, shows Teacher Lee Kang-hoon who sincerely cares for the students.
As such, School 2021 catches the attention of prospective viewers by foretelling an exciting story and the special chemistry of the actors with just a group poster.
KBS 2TV's new midweek series School 2021 is scheduled to premiere on November 17 following Dali and the Cocky Prince.
---
Source: xportsnews | Photos" KBS Drama
[wpedon id="3227″ align="center"]