Meticulously planned to align to its polished characters, Flower of Evil blossoms easily to viewers who prefer suspense-filled stories.
Owning up to its intention, Flower of Evil left a lingering fragrance that speaks about the true meaning of trust in a married relationship.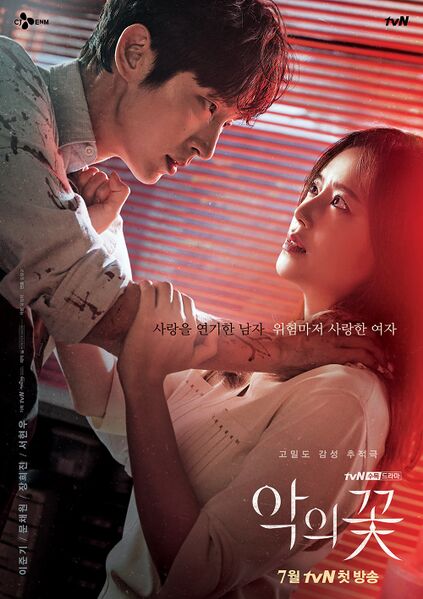 Main Cast: Lee Joon Gi | Moon Chae Won | Kim Ji Hoon | Jang Hee Jin | Seo Hyun Woo
Network & Episode Count: tvN | 16 Episodes
Official Website: Flower of Evil tvN
Thrill/Addictive Meter:
Overall Rating: 
Rewatch Value:
K-Dramas of Similar Vibe: | The Smile Has Left Your Eyes | Voice 2 & 3 | Kill It |
---
Quick Plot Summary
Living happily with his endearing daughter and detective wife, Do Hyun Soo (Lee Joon Gi) confronts a cruel past that he has been hiding. His wife Cha Ji-won (Moon Chae Won) ultimately discovers that he has taken someone else's identity. Adding to that, he is the son of a notorious serial killer whose evildoings created irreversible damage to his children.
When Ji-won and his team investigate a murder case, it led them to the husband of the serial killer's last victim whose body has not been found yet. Coming clean, Ji-won wholeheartedly accepted the painful fate of her husband. She also supports his goal of not going back to his identity as a murderer's son.
However, his dream is also the dream of the person who really owns his identity. Racing against time and a relentless psychopath, Hyun-soo and Ji-won work together to protect their love and family.
---
Flower of Evil Peak Points
Beautifully Mounted Redemption Story
Limned to a hero cut from a sketch that is rare for K-Drama male leads, Lee Joon Gi powered the character of Do Hyun-soo. Faced with unfair public scrutiny for being a son of a serial killer, he resorts to agreeing in taking a new identity as Baek Hee-sung. His impeccable cognitive skills make it easy for him to live a normal life different from what he used to have.
However, when the lies he has been weaving for years were unearthed, he struggled to make the right rationalization. Lucky for him, his wife Cha Ji-won has seen through his pains and embraced all his flaws.
Lee Joon Gi's character is one that would make any audience sympathize with him. His dream is to have a normal life, not to be linked to his notorious father's reputation. But, it was not an easy road for him especially since the false identity he took is a complex one.
There was a poignant scene when he said to Ji-won how he just wants to live as "Baek Hee Sung". That is because his character's internal conflict for the most part of the series is wanting to live not as Do Hyun-soo, a murderer's son.
At first, I felt the memory loss insertion in the waning part was just too much for Hyun-soo's character. Actually, the finale episode drama overload baffled me. Nevertheless, its intended message to picture the hero claiming deceit-free life is a nod to what his character needs – a true new beginning.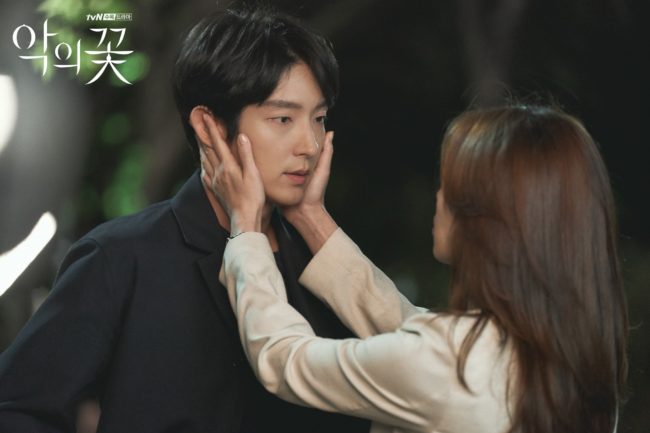 Piercing lessons on relationships
How brave a person can be in face of his lover's dark past was one of the highlights of Flower of Evil. It's literally scary to think of being in love with someone who has been showing a fake front. Even more, if he is a smart one.
Moon Chae Won, who portrayed the role of Cha Ji-won, has presented a gritty character who also buckled after confirming the layers of lies her husband made that she was not aware of.
Her character is coordinated to Hyun-soo and vice versa. Their love story is quite peculiar in multiple facets. Admirably, Ji-won's character which takes the more dominating part sustained the logic; whilst Hyun-soo backed the thrill and emotions of their love pairing.
Looking back, the all-important marriage lesson Flower of Evil imparted through the lead couple's story is the weight of trust and communication.
Essentials often overlook that contribute to false reckonings. It would be a more happy world if misunderstood people like Hyun-soo would find a compassionate and forbearing pillar of a person like Ji-won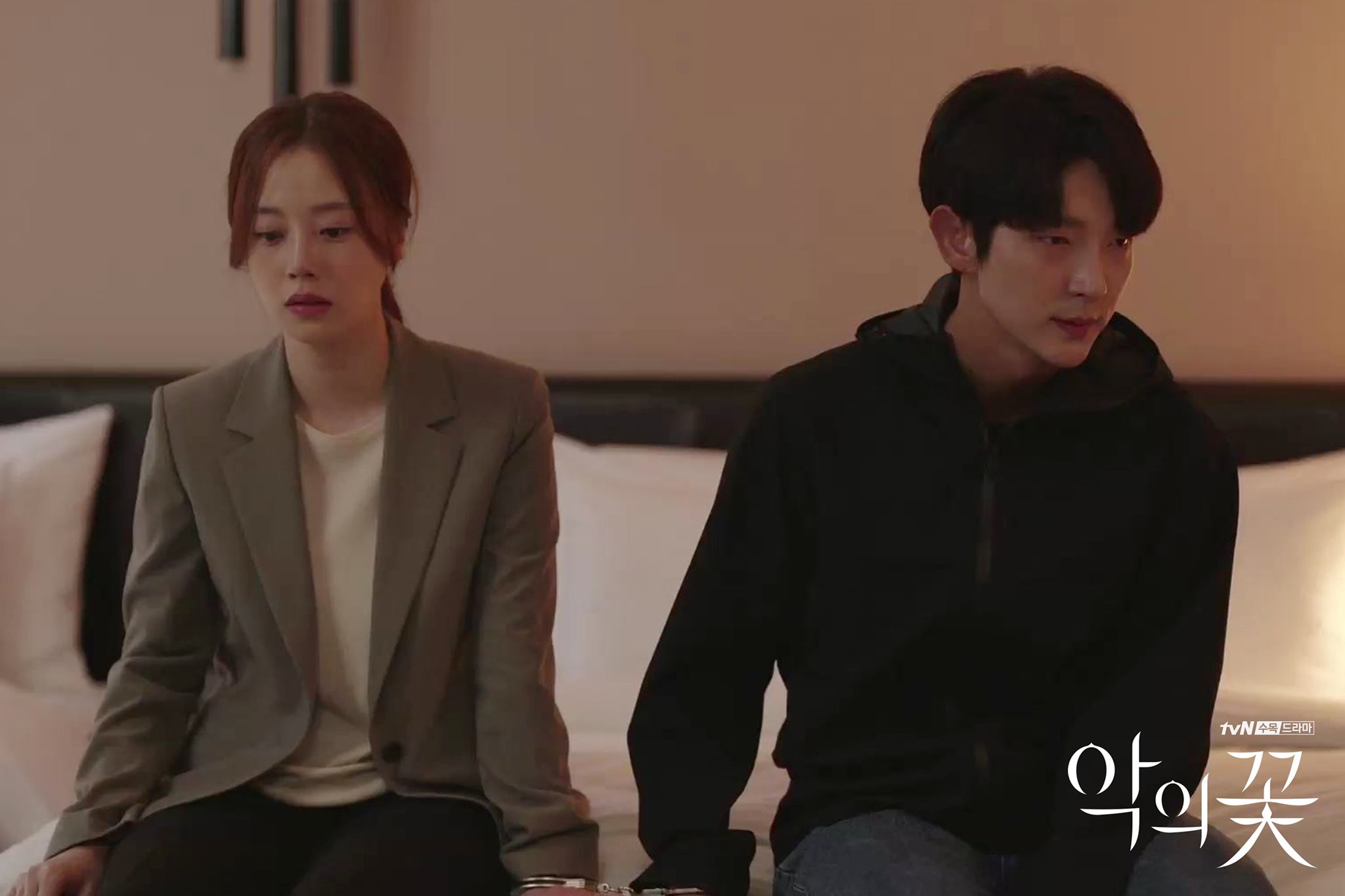 Another relationship highlighted in the series involves Kim Moo-jin (Seo Hyun Woo) and Do Hae-su (Jang Hee Jin). Both actors are equally amazing in their supporting roles.
In particular, there was a line from Hae-su that lingered in my thoughts. That scene when she said how Moo-jin seems to succumb to faintheartedness in moments that she needed him.
Definitely, a stark contrast to the main love line, Moo-jin and Hae-su featured a kind of love not as ardent as Hyun-soo and Ji-won's. But, it advocates how love is nothing without courage.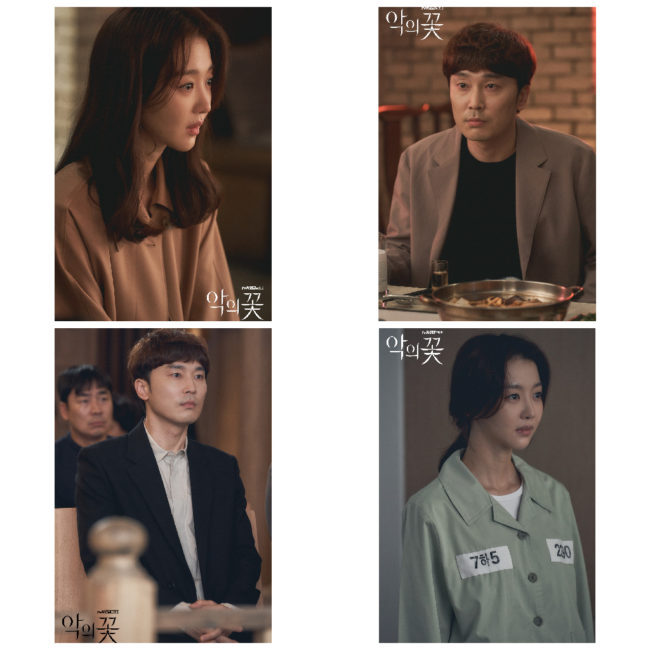 ---
Consistent Thrilling Pace
Flower of Evil superbly notched its cliffhangers with ample curiosity for viewers to be enticed by its succeeding episodes. Notably, the quick back story reveals also tinged the series with relevant information about characters' motivations and where the story heads to.
Building intrigue in its initial episodes, the series smoothly presented the pertinent information in the story with easy-to-follow direction. It did not throw unnecessary side stories and just focused on unfurling the hero's secret. Then, it decked the nefarious villain who spiced up the narrative to heighten the conflict.
Conclusively, the drama neatly tied up the presented hitches and served punishment to the villains. Naturally, happy endings for the protagonists were also achieved.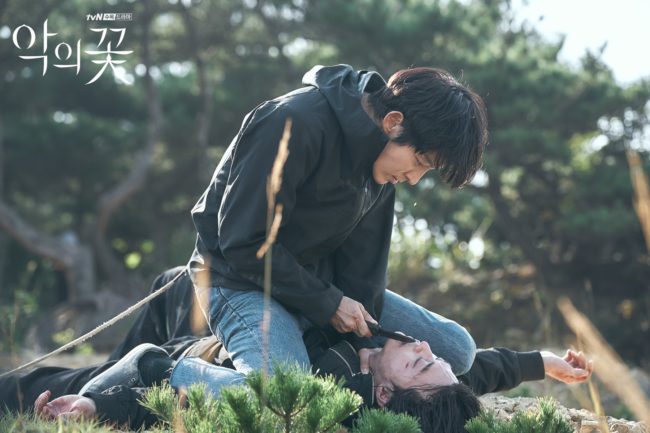 ---
Flower of Evil Series Afterthoughts
Along with the unraveling of the big picture in Flower of Evil was a fluid display of character functions and connections. Admirably, the well-utilized cast helped in the consistently enthralling narration.
Kim Ji Hoon as the wicked degenerate, who found belongingness to a psychopath mentor, later conspires with his yielding parents to continue his atrocities.
If this overview of the anti-hero sounds creepy as you read it, you can only imagine how he is in the series. Challenging a new range to his acting arsenal, the actor deserves a favorable mention for equally fueling the series with the main leads.
I always laud Korean dramas when they use not so many characters, but still impressed with the storytelling. Flower of Evil did not bombard me with characters that don't hold much meaning in the story. Definitely, that aspect deserved applause.
Ostensibly funneled to explore marriage dynamics in the backdrop of a serial killing case is not something we usually see in K-Dramaland. That holds the specific charm of this series.
If you are looking for a love story that is not emotionally draining and won't involve third parties, then book this reunion series from Lee Joon Gi and Moon Chae Won. Encompassing the bliss and pain of mutual love relationship, it also blows your mind away with the twist and surprises.
---
---
Check out more photos below.
---
Photos: tvN