Forecasting Love and Weather leaves a note on how establishing romantic connection warrants braving choices and owning up to misgivings.
For its 16-episode run, the series has put varied perspectives of career people sharing a highly-demanding job that does not tolerate constant mistakes. Correspondingly, lessons on career, relationships and marriage were richly focused on.
Main Cast: Park Min Young | Song Kang | Yoon Park | Yura
Addicting/Romance Meter:
Overall Rating:
Rewatch Value:
Dramas of Similar Vibe:

Search WWW

| Worlds Within | City Hall | The Greatest Love |

Romance is a Bonus Book

|
abbyinhallyuland watched Forecasting Love and Weather on Netflix
Episode Recaps: 01 & 02 | 03 | 04 | 05| 06 | 07 & 08 | 09 & 10 | 11 & 12 | 13 & 14 | Finale Week + Review |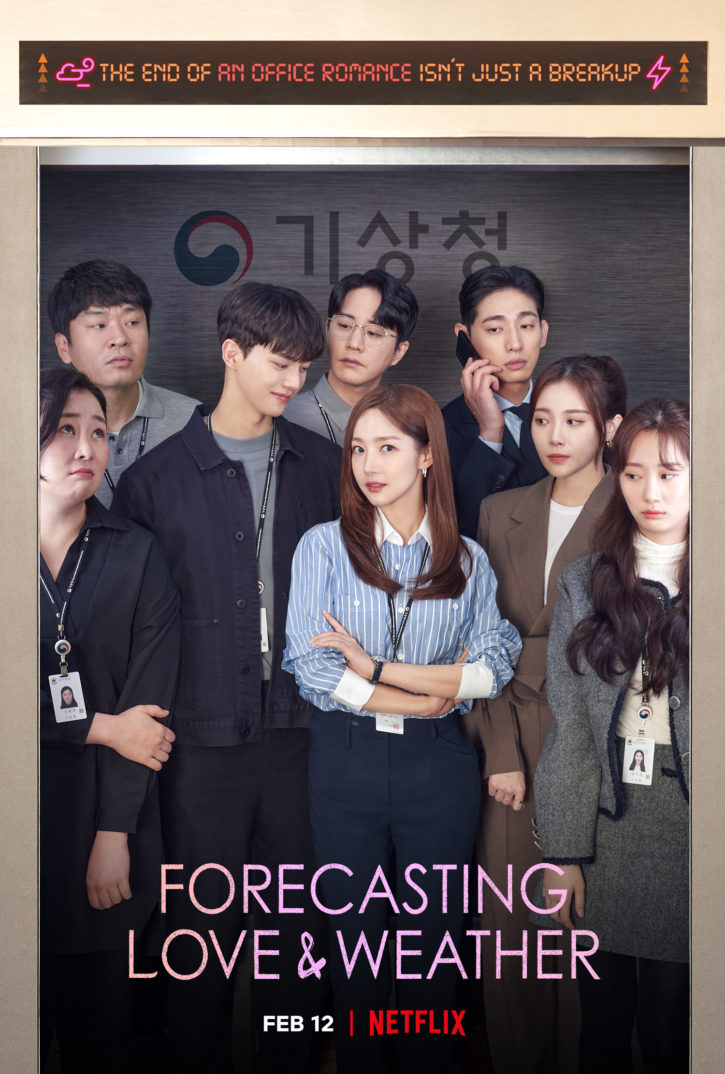 ---
Forecasting Love and Weather Finale Week Recap
Deciding to let their officemates ride their recent knowledge of their relationship, Ha-kyung and Si-woo go on with their usual business.
Unknown to Si-woo, his ex-girlfriend has been taking care of his father who was admitted to the hospital. His situation is also hinting at possible illness and Ha-kyung can't directly tell him about it.
When Si-woo finally learns about his father's situation, he still struggles to reconcile his thoughts. Eventually, through a heart-to-heart talk with Ha-kyung's mother, he learns to free up his excess emotional baggage.
Meanwhile, when Ha-kyung overturns the set forecast, she earns the ire of her senior. It also caused Senior Forecaster Eom to miss his daughter's birthday dinner. Thankfully, his wife has shaken some sense in him when he almost accepted his wife's initial divorce proposal.
Initially bearing Yu-jin's worry about not pushing for her pregnancy, Ki-jun made a heartfelt promise of being a good father and husband. They then decide to keep the baby.
With life not favoring her career, Tae-kyung almost gave up on love as well. Thankfully, Seok-ho persists to give her both hope to proceed with the job she loves.
Deep down in their hearts, both Ha-kyung and Si-woo cherish each other still. Coming to terms that there's no other way for them but to be together, they threw away their inhibitions and agree to be with each other.
---
Forecasting Love and Weather Quick Plot Recap
At the top of her game as director of Team 2 general forecasting unit at Korea Meteorological Administration (KMA), Jin Ha-kyung has her life going well. While preparing for her wedding with her long-time boyfriend Han Ki-jun, she discovers his unfaithfulness resulting in their wedding cancellation.
Ki-jun later marries Chae Yu-jin who previously lived together with Lee Si-woo, a new weather forecaster that joined Ha-kyung's team. Eventually, they get closer leading to a relationship they agree to not declare in public. That is because of the whole scenario of their ex-lovers being together and they all work in the same office.
However, no matter how strong the emotions they feel for each other, their marriage beliefs oppose. Adding to that are personal concerns that inevitably led them to break up.
Interestingly, their relationship status went viral at the office. Thus, they decide to keep their breakup a secret. Through their parents' encouraging words, they disregard their love woes and choose to accept they are fated to be with one another.
---
Forecasting Love and Weather Peak Points
Interesting Delivery of Weather Forecasting Workplace
Successful in presenting a lingering picture of a workplace, Forecasting Love and Weather has honestly moments of frustrating love development, especially in the focused romance story.
Hence, the detailed presentation of the office world of South Korea's weather forecasting office in a way salvaged the shaky focal romance. That is an interesting feat since usually, the romantic story equalizes the overall feel of the series in the office drama genre.
Delineating the significance of the work involved in weather forecasting, the audience that will be reached by this series would now be more understanding of inaccurate forecasts. At the same time, the compelling nudge to love our very own respective jobs is a resonating afterglow of the story.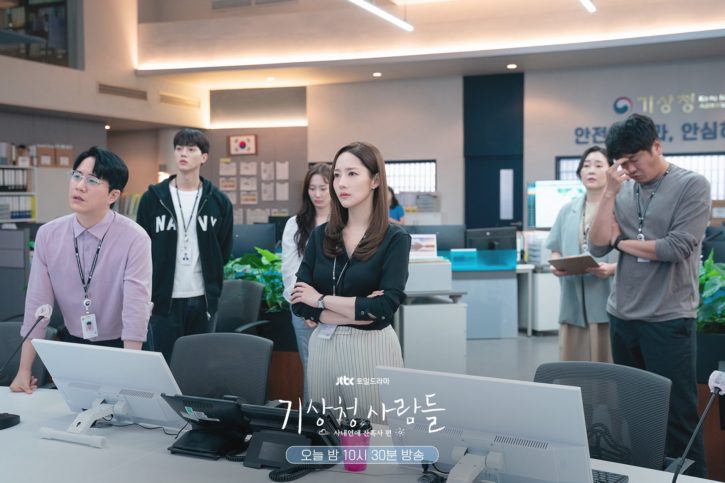 ---
Deftly Sketched Characters and Their Developments
The accompanying side love stories in Forecasting Love and Weather have found ways to flourish adorably and meaningfully. Consequently, it also provided growth for each character in the series.
From its onset, the story ensured balanced screentime and moments for other highlighted couples in the story. Senior Forecaster Eom's situation whose work dedication endured being afar from his family speaks about the bargains committed for a highly-demanding job.
Likewise, Assistant Director Myung-joo presents the struggle of a working mom. She also left an inspiring boost of being supportive from her husband. At the same time, she also knows her worth and did not let her husband take her efforts for granted.
When the main love story was at an impasse, the endearing romance between Seok-ho and Tae-kyung provided an efficient cushion. Just as Ki-jun and Yu-jin reached a genuine commitment and incited a meaningful lesson that marriage is a process to be figured out along the time spent by a couple.
Even Su-jin shared the career reality of accepting that each job role might drive us to exhaustion, the perspective to weigh the merits more than the gripes would keep our career compass sailing.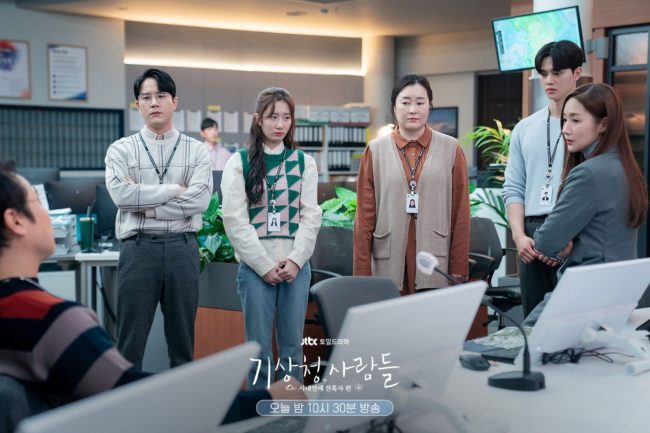 ---
Forecasting Love and Weather Series Musings
Probably achieving the most balanced presentation of romance and workplace in a series, Forecasting Love and Weather is consistently enthusing with its display of the characters moving in its set office fictional world.
Correspondingly, the romantic stories assimilate to the plot efficiently. Often, either the workplace or romance fades in this type of genre. Remarkably, the series maintained this aspect in symmetry.
As previously mentioned though, there were moments when the indecisiveness of Ha-kyung and Si-woo faintly made the story circle. Nevertheless, it has been layered pragmatically that the problems and happiness experienced by the characters made the story moving and relatable.
The provision of ample lessons learned from their love story development such as marriage apprehensions and trusting love after betrayal served as a buffer when their story felt sometimes disheartening.
Accordingly, the narrative touches on filial relationships experienced by typical single people. The good and the bad of it. Once the marrying age happens, parents are expected to worry more than their actual children. Like the case of Ha-kyung. It's fortunate that her mother paved a way for her romance to prosper with someone she can really connect with.
Initially. a deplorable situation for Si-woo, his disappointment with his father also made the viewers despondent as well. Thankfully, he has come to terms to forgive his past discontent toward his father. Having a bigger heart in any situation saves us from any kind of heartbreak.
Blessed with sincere portrayals, Forecasting Love and Weather generally appeals to the working crowd. Likewise, it is a satisfying story best shared with friends and family.
Explore the world of weather forecasting through different love stories in Forecasting Love and Weather!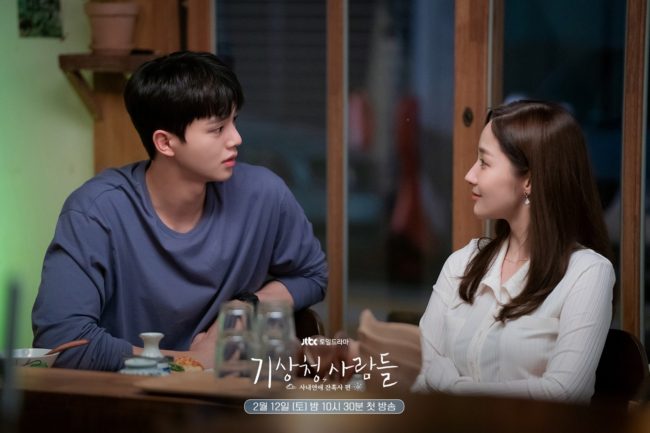 ---
Photos: JTBC
[wpedon id="2271″ align="center"]