Dear kdramagod, it's me Abby. Just like the Belle Epoque girls, I too have a lot of regrets and dreams when I was in my 20s.
Coming from a disappointing drama stalking from summer dramas that turned stale halfway through their runs, picking up Hello, My Twenties! was merely decided by the number of episodes it will sprint. Thank heavens, that I got more than I expected from it.
Main Cast: Han Ye Ri | Park Eun Bin | Han Seung Yeon | Ryu Hwa Young | Park Hye Soo
Network & Episode Count: jTBC | 12 Episodes
Official Website: Hello, My Twenties jTBC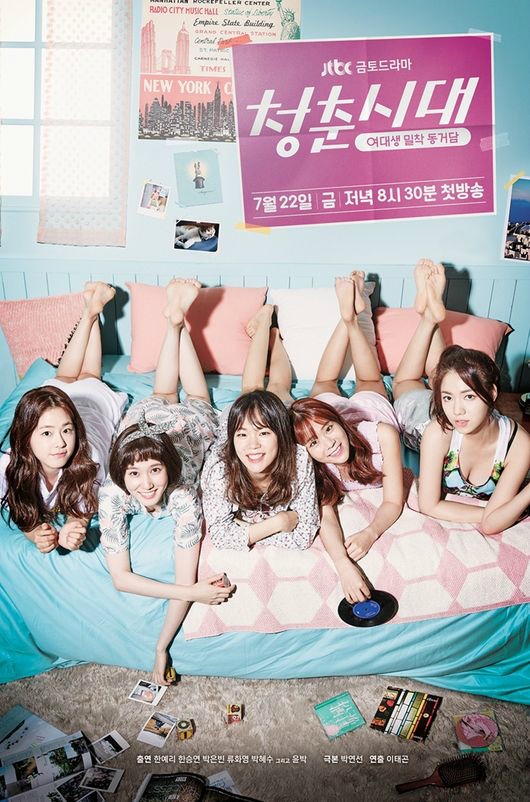 Hello, My Twenties is a retrospective youth drama that speaks about the lives of young women. Five ladies paraded their love inhibitions, self-esteem issues, school worries, what-happens after-school disappointments, and all the rest of the typical predicaments, women in their 20s usually worry about.
Tailored to show the common faces of women, the series gravitates with its honesty while giving a melancholic resonance. It depicts how the girls progressed to strengthen their bond while living together in a dormitory. While having their own individual baggage from the past, they willingly unload them to stop it from haunting their present lives.
The sassy girls and their friendship take viewers, especially women, to the recesses of their fond and life-affirming memories. Those years when some struggled juggling part-time jobs to support their studies, as well as, painful breakups with long-time lovers.
---
Quick Review
Plot Trajectory:  Consistently engrossing but some plot/with minor hiccups along the way
Plot Pace: Nicely-done
Character Portrayal: Great main leads and supporting cast
Writing: Remarkably penned with nostalgic seasoning
Watch on a binge or at intervals?: Binge
Crowning Moments: Equally amazing portrayals for the five lead female cast | Fascinating young romance stories
Romance Addictive Meter:
Overall Rating:
K-Dramas of Similar Vibe: Age of Youth 2 | Weightlifting Fairy Kim Bok Joo |

Reply 1988

|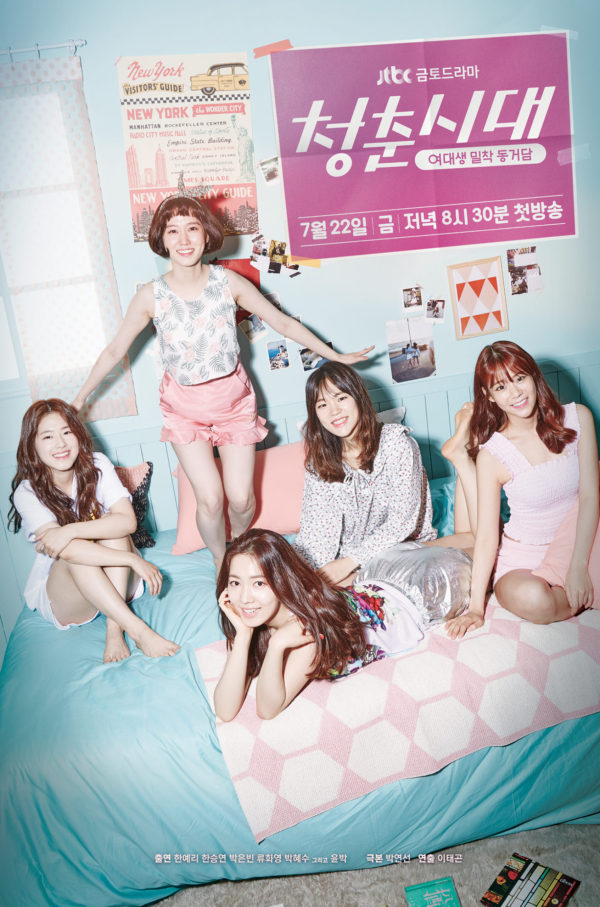 ---
Hello, My Twenties! Quick Plot
Yoon Jin Myung (Han Ye Ri) has been working a lot of part-time jobs to sustain her school expenses and his brain-dead brother's medical bill. Dating is a luxury for her as she hurdles herself to whatever unfortunate event relating to money that life usually throws at her.
Kang Yi Na (Ryu Hwa Young) wants to have an easy life. Her near-death experience made her settle into an uncomplicated life. She lied to her dorm mates about how she has been supporting her high-maintenance self. That is through taking on sponsors who give her money in exchange for casual dating and sex.
Although pretty and having a gregarious personality, Song Ji Won (Park Eun Bin) is unsuccessful with her romantic life as men usually don't see her as a woman. She dreams of what simple things a woman wants, but sadly she hasn't fulfilled her love yearnings yet.
Jung Ye Eun (Han Seung Yeon) defines love in a literal manner. She gives all that she has, even if her lover is a complete bastard. She overlooks the bad treatment her boyfriend did to her all because she can't imagine herself without him.
Yoo Eun Jae (Park Hye Soo) is a freshman at the university and has yet to experience her first romance. Unsure about how to act and express how she feels, her kind-hearted reliable first boyfriend is willing to help her every step of the way.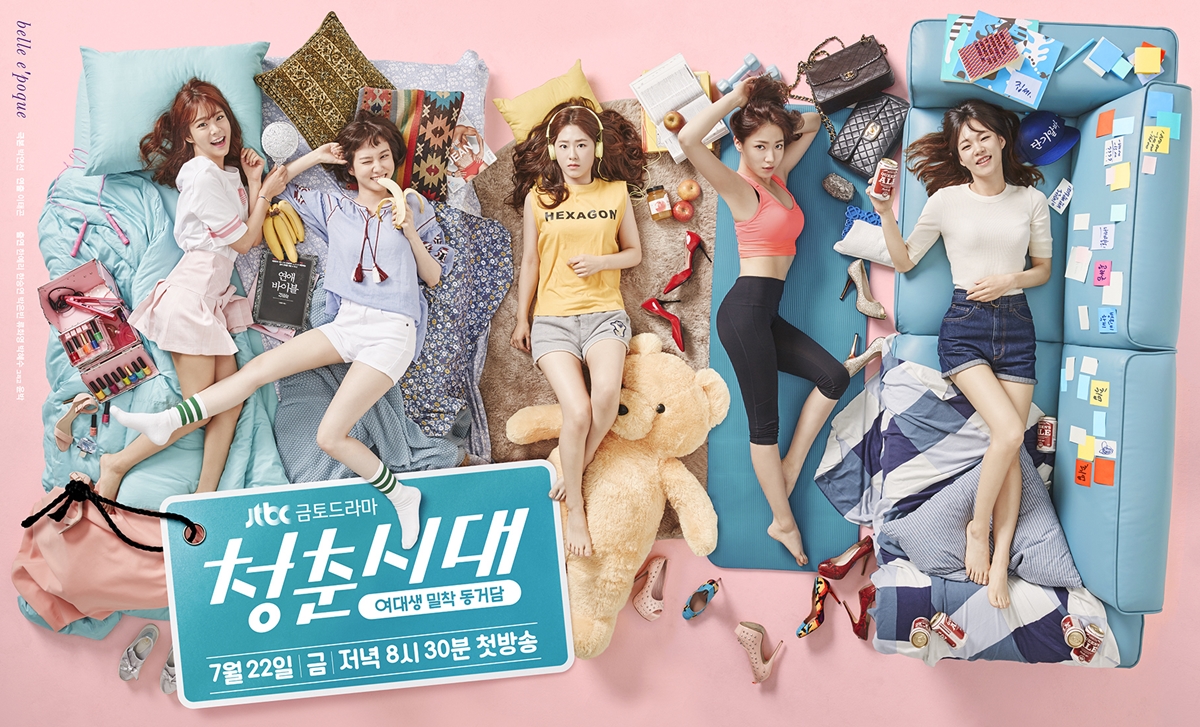 ---
Peak Points
A reminder of youth's pain and bliss
These sassy girls and their friendship made me spiral down to the recesses of my memory 10 years ago. Those are the years when I also had part time jobs to support my studies and had broken up with a long-time boyfriend.
The series in a way made me remember how I spent most of my 20's trying to fit into my career and pick myself up after a painful broken heart.
So, this drama really hit home in me. The friendship, the life uncertainties, the magical feeling of being in love, and the regret of the wrong choices echoed clearly in the situations narrated by the characters in commanding vibrancy.
It made me smile at how every one of us has different stories, pain and bliss from when we were young. When you fast forward to the present, you will be proud of yourself for surviving those life and love complications.
A smart narrative of women's youth
Midway through the drama, I don't know why some swish of a metaphysical element was used to delve into the character development though. I am already sold with the realistic approach to how the dorm sisters take on their personal and love issues.
But as the story crawled to the closing episodes, it neatly explained the need for that cabinet ghost presence. It was a representation of the ladies' personal battles from their past that they bravely reconciled in the present.
How the story put together the strong connection of characters through their growing respect, love and friendship with one another were sketched beautifully. It even reconnected me to those moments that led me to forge bonds with my closest friends.
---
Hello, My Twenties! Series Afterthoughts
Picking up Age of Youth gave a lot more than what viewers would have expected from it. Because just like the Belle Epoque girls, most women have a lot of regrets and dreams when they were in their 20s. Yet, all of it has shaped them to be women greater than their prejudices.
Hello, My Twenties was drawn in logical detail solidified by the attachment of situations that made use of the girls' sincere understanding of each other's vulnerabilities.
Trudging on lessons about friendship, the series reverberates insights on confronting life uncertainties. Aside from that, the regrets of the wrong choices echoed clearly in the situations narrated by the characters.
Its commanding vibrancy makes viewers smile as it pushes us to recount the pains and bliss of being young. Somehow, it even gives an invisible shoulder tap if you have done a great job surviving those love and life complications.
Jin Myung, Yi Na, Ji Won, Na Eun and Eun Jae are fictional reminders that we will get to have different kinds of friendships in our lives, most of which will be dependent on time.
So, it is very important to keep friends who shared a lot of memories because as time changes, you can never go back to it, but if you cherished the memories, it will always put a smile on your face no matter how much time passed by.
Take time to see the girls of "Belle Epoque" and see for yourself how you will also be nudged to reminisce your 20-ish self.
---
Photos: jTBC