In these times when we are mostly confined to our homes, Hometown Cha-Cha-Cha gifted us a virtual neighborhood full of warmth and love.
Decorated with endearing romance stories that speak to varying ages, the series impressively brims with encouraging love, life and career lessons. Reminding us of our very own circles, we found a weekend virtual haven in this series that gives a consoling mood sparingly.

abbyinhallyuland watched Hometown Cha-Cha-Cha on Netflix
Episode Recaps: 01 & 02 | 03 | 04 | 05 | 06 | 07 | 08 | 09 | 10 | 11 | 12 | 13 | 14 | 15 | Finale Episode + Review |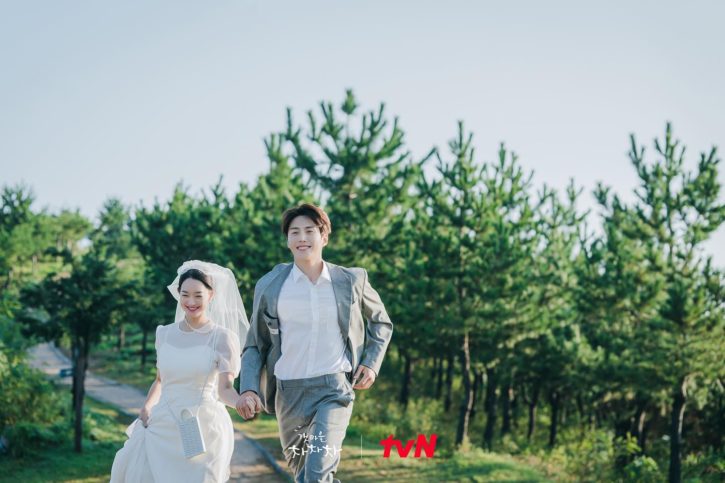 ---
Hometown Cha-Cha-Cha Final Episode Quick Recap
Throwing a final party, Grandma Gam-ri's life was celebrated by the people of Gongjin. Gong-jin's secret # 3 was also revealed to be Eun-cheol and he is also set to marry Mi-seon.
Yeong-guk and Hwajeong carry on with their reconciliation. Completing the lovers' list, Ji PD and Writer Wang's love ship also sailed.
Hyejin decides to stay with Du-sik to become each other's family. Together, they work to celebrate life with meaningful interactions with their family-like friends in the neighborhood.
---
Hometown Cha-Cha-Cha Peak Points
A Basket Full of Healing Stories
We know we are going to get doses of heartwarming moments when Hometown Cha-Cha-Cha introduced quite an age range in the opening week. The elderly, the children, and the setting of the seaside town would effortlessly hit home. Especially since the world requires any kind of healing we can get these days.
If Gongjin village can magically turn to a real place where people can head to for unloading of stress, I bet a lot would sign up for it. The villagers' interactions have been reminding us of the beauty in living with friends and harmonious relationships with neighbors.
From lessons on personal healing, parenthood and romance; the series specifically imparted how we should always be kind and understanding. That we should not be quick to judge people when we don't know what they've gone through and been going through.
Notably, the series fell nothing short of emphasizing how deeply carved emotional pain withholds a person's ability to fully trust and love. Thus, we should never rush someone who wants to heal, but be supportive of that journey.
Sending the message of communicating respectfully to any kind of interaction, the series touches on understanding personal spaces to any kind of relationship.
---
Focus on Worth Emulating Relationships
One striking point that made the series shine is its focus to deliver the friendship stage between the lead pair. It does not rush the romantic development, yet it keeps the viewers' attention locked to anticipate the inevitable romance.
Admirably, having characters in their 30's and 40's makes this series sane in tackling relationship issues featured. They communicate their emotions well and are also prepared for the worst scenarios.
Mutually healing together was a romantic route that made Du-sik and Hye-jin's love story shine more. Du-sik initially taught Hye-jin to better her rough edges while Hye-jin brought him out of his misery. I also love how Du-sik and Hye-jin argue every episode, but make sure to resolve it by communicating what they could have done better before the episode ends.
Mi-seon and Eun-cheol's dating with the intent of marriage was also a highlight of the story. Hopefully, her story would resonate with those who are often indecisive when it comes to love. She knows she's at the age when processing feelings does not require what-ifs, but facing the reality heads-on.
Mi-cheol couple fondly encouraged us to not overthink what needs to be done in a relationship. Being emotionally and financially ready aid confidence to push for marriage. And again, dating with marriage in mind is the most honest kind of love anyone can give himself.
Hwajeong and Yeong-guk's love second chance left a lingering message that there is more beyond messy habits and misunderstandings that can end a marriage. Overlooking your partner's self-worth often leads to this situation.
Hopefully, its message ripples a long way for people who might be in the same situation of taking for granted people who are always there for us. Being complacent and hiding emotions are not good practices in fostering a healthy relationship.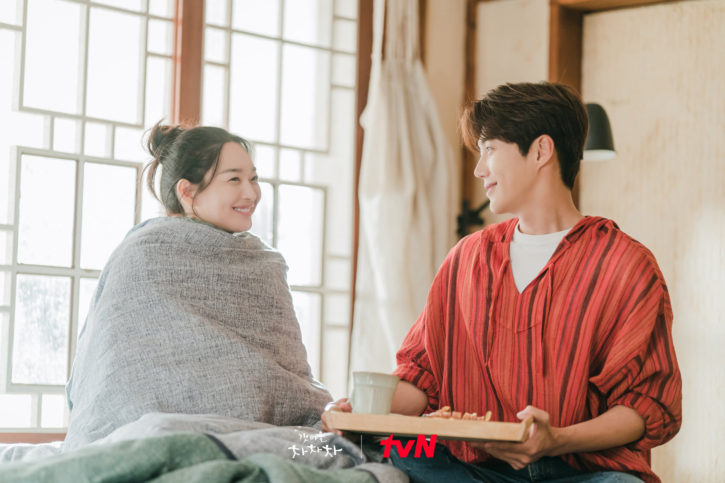 ---
Impeccable Cast Synergy
From young to old, the realization that viewers would be able to name all the people in Gongjin proves the point of balanced screentime. As if it's not enough, we were gifted with wise lessons even by I-jun.
Never showing any signs of faltering, the energy each week was kept at an impressive level by the evident chemistry and side stories that relate to a wide audience.
Splendidly, we really have become silent and self-proclaimed villagers of Gongjin rooting for the fun gossips and activities the characters engage in.
Wrapping up every question raised in the series in the last two episodes, the finale week highlights self-forgiveness for the hero who has blamed himself for a long time. His intention to be the most helpful person in his hometown was not a way of redeeming himself but being grateful to the place and people who saved him for almost giving up on life.
His interaction with the townspeople left a few lessons, but it's probably Grandma Gam-ri that would leave an imprint to viewers' recollection.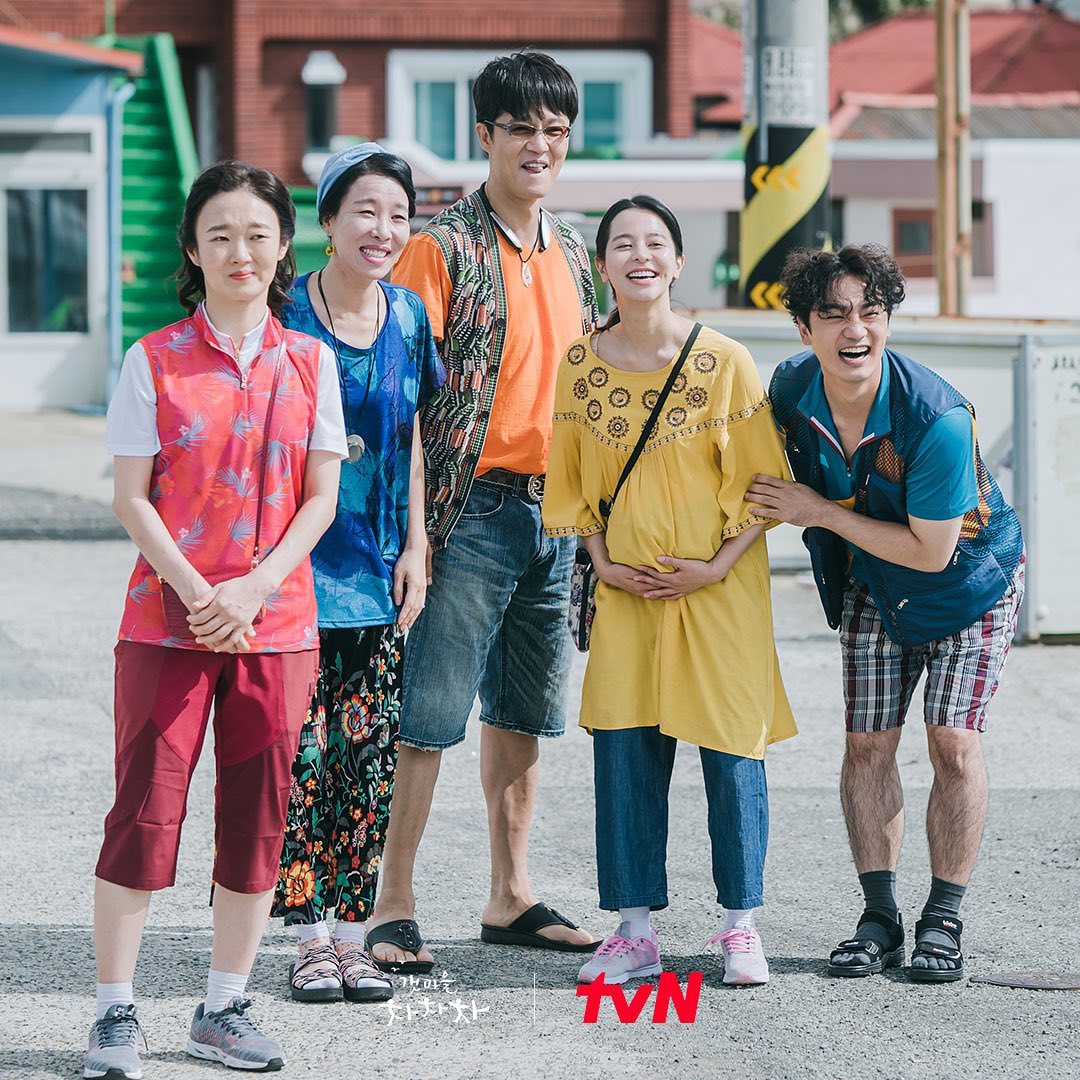 ---
Hometown Cha-Cha-Cha Series Musings
Hometown Cha-Cha-Cha incorporates meaningful messages and moments for all ages without losing focus on hyping the romance story in place. Giving doses of uncomplicated love and life lessons, the drama teaches how to own to mistakes and be unapologetic to personal convictions.
Resonating that we are all eligible to commit to self-healing after a life setback, Gongjin is a representation of how we can find our very own solace in a place or with a person.
This drama expounds on how problems will not disappear if we care less. If we gamble to not confront it right away, it's okay.
Our pain and scars have stories, no matter how ugly they could be. We make no apologies for how we choose to get through our emotional woes. At the end of the day, someone who carries it would never forget it. We don't need other people's judgments to be reminded of it.
A Drama Worth Sharing To Your Loved Ones
16 episodes of love, healing and appreciating life; Hometown Cha-Cha-Cha prompts us to check if we have been engaging in meaningless social connections. The retrospecting mood might ring a bell to the level of sincere friendly and family relationships we once shared with our loved ones.
There are a lot of Hong Du-sik right now who opt to be alone in their inner pains than open up. And yes, most of the time, they also tend to carry another person's problem aside from their heavy loads. It's definitely hard, but doable to create a habit of kindness. What little help you might have done, intentionally or inadvertently, might ripple a last flicker of hope to someone hopeless.
Likewise, there could be times when we act like Hye-jin. Uptight, inflexible and loves to frolic in life's pleasures. That's definitely okay. Just like Du-sik said, we work hard for it. We can also pick up on her growth by acknowledging the harsh words and realities she experienced. Her self-healing journey ascertains that often the purest joys we can have are free.  We only need to recognize and share it with someone.
Share K-Drama love with the amazing and uplifting story of Hometown Cha-Cha-Cha.
All episodes are now streaming on Netflix!
---
Photos/Videos: tvN | Stone Entertainment