What started as a mutually beneficial contract marriage turned into a healing connection in Love In Contract.
Proving how love is a universal cure for inner pains; the interestingly drawn story of a single-life helper and a family court judge blossomed into a love-affirming tale perfect for people who love saccharine stories.
abbyinhallyuland watched Love In Contract on Prime Video

Episode Recaps: 01 & 02 | 03 | 04 | 05 | 06| 07| 08| 09| 10 | 11 & 12 | 13 & 14 | Finale + Series Review |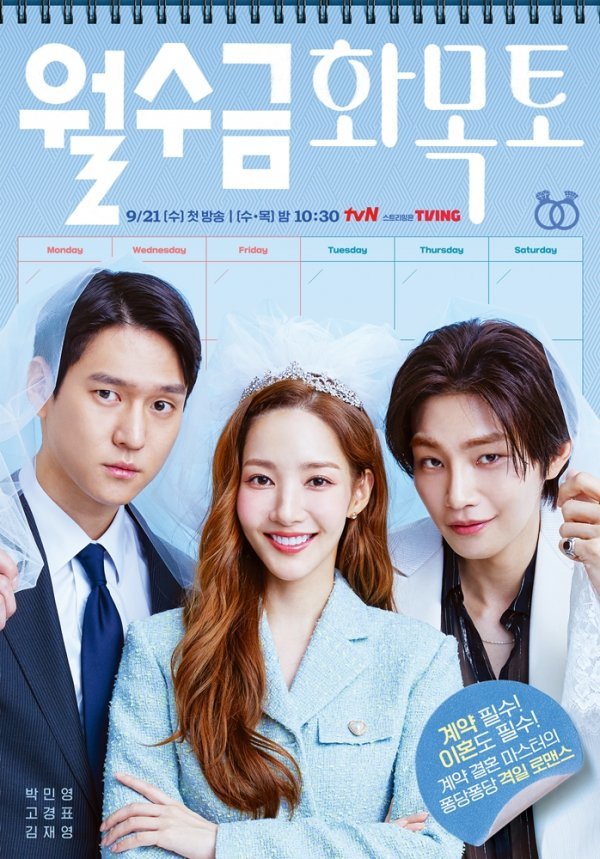 ---
Love In Contract Final Week Highlights
Resolving problems to protect her people, Sang-eun makes a decision to leave Ji-ho upon learning the extent of how much her boyfriend would willingly do for her. Ji-eun reveals Ji-ho's actions that would make him lose his career in the process.
Feeling responsible for the concerns in which she's indirectly involved, Sang-eun made a bold move to end Kang Sun-jin's atrocities. She recorded her conversation with him on the night she met with Kang family. His evil words even denouncing his family once he secured the company's rein, earned him a total banishment from his father.
Meanwhile, Kang Hae Jin, through Sang-eun's pep talk with his mother also earned a chance to do what he wants and not what his parents want for him.
In another heartfelt confrontation, Sang-eun also pleads Madam Yoo not to leave and stay as her mother, finally unveiling the truth that she knew all along that she is her mother.
Patching things up with Ji-ho, Sang-eun makes a heartfelt proposal to him to be together and shared an intimate gathering with their closest friends to celebrate their love.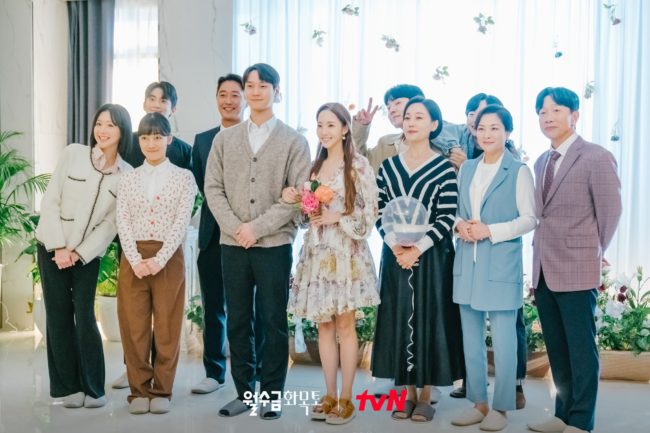 ---
Love In Contract Quick Plot Recap
Choi Sang-eun (Park Min Young) has spent her youth and determination in completing her goal to free herself from the monetary agreement she set with Yoo Mi-ho (Jin Kyung).
Working as a pretend-wife to her clients, she follows a strict contract. Even though her divorce grade card is a bit high for a woman in her early 30s; she is fixated to proceed with her mission and dream.
Her life constant is the friendship she shared with former client Gwang-nam (Kang Hyoung Suk) with whom she shares her place.
For the last five years, she is also in a long-term marriage contract with Jung Ji-ho (Go Kyung Pyo) with whom she shares Monday-Wednesday-Friday dinners. Things change when top star Kang Hae-jin (Kim Jae Young) enters another marriage agreement with Sang-eun.
---
Love In Contract Series Highlights
Characters Worth Empathizing
Giving enough reasons to gravitate to Love In Contract, the series banks on the fascinating characters. As lively and looking normal as she can, Sang-eun's past screams a compelling story we can definitely look forward to.
Likewise, Go Kyung Pyo did a great job of bringing a new flavor to the word stoic. Ji-ho successfully heightened our curiosity about what he really does for a living.
In his usual element of bringing the best of his character, Kim Jae Young as Hae-jin is a delightful Hallyu star and cat dad, too. Equipped with a nostalgic "unrequited first love" story with Sang-eun; viewers are in for two equally refreshing romantic worlds.
On that note, viewers can expect a shower of romance among the main leads especially since the love triangle went to an engrossing level before it reached its closure.
Each character presented has an intriguing back story we can't help but root for to achieve a happy-ending development. In fact, we really have to admire the nuances the writer injected into the characters we met so far.
Coming from an unusual marriage arrangement, Sang-eun, Ji-ho and Hae-jin have grown into better versions of themselves by going through situations that somehow loop them all in.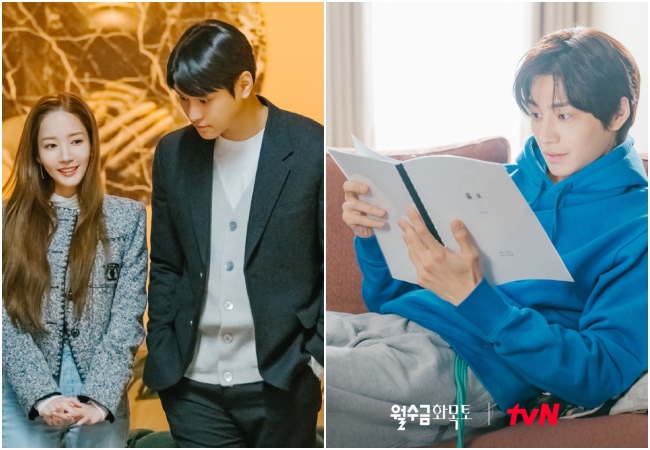 ---
Thought-Provoking Life and Love Lessons
Featuring three characters carrying distinct pains; Love In Contract compellingly delved into alienation, self-love and sacrifices that humans naturally make for the people they care about.
Sang-eun and Ji-ho's love journey emphasizes how getting married is not about escaping the loneliness of being alone. That communicating mutual feelings is important for a relationship to thrive.
Notably, Sang-eun's life represents how we can have not so many people in our lives and be happy about it.
Sang-eun and Ji-ho's love journey emphasizes how getting married is not about escaping the loneliness of being alone. That communicating mutual feelings is important for a relationship to thrive.
Notably, Sang-eun's life represents how we can have not so many people in our life and be happy about it.
Another significant takeaway in this series was when it touched how accepting the past of someone you are feeling affection for is immutable.
Ironically, normal people struggle to accept someone's past relationships or marriages that are not something to be proud of. On that note, how the lead pair talked it out and embraced they have different opinions, ultimately asserts the importance of healthy conversation.
Lastly, Love In Contract sealed an important message to not judge people when you know little about them. Attuned to that, making an effort to know someone and acknowledging a connection really requires bravery.
Once you have braved that realization that someone could be special, prolonging what you want to do with that person might miss the right timing, in case someone scoops in to take advantage when you were hesitating.
---
Love In Contract Series Musings
Inspiring viewers to find someone sealed with a hundred percent love, Love In Contract whips an interesting love triangle perfect for your romantic story cravings.
Even for people who seem to be romantically incompetent, the flavors of this series make a convincing pitch about varying colors of meaningful relationships. The kind that is romantic and encouraging – the kind that is rational and forward-thinking.
Presenting Sang-eun's journey to discover her own life, romance and happiness; we were drawn to her unique life, and how it tangled with people who made it even more meaningful.
Despite concluding the story with a weakly-conceived conflict; the merits initially established saved Love In Contract. More so, because it at least provided happy endings which the general audience would want.
If you crave engaging love stories fueled with healing notes, this series is perfect for you.
All episodes of Love In Contract can be watched on Prime Video!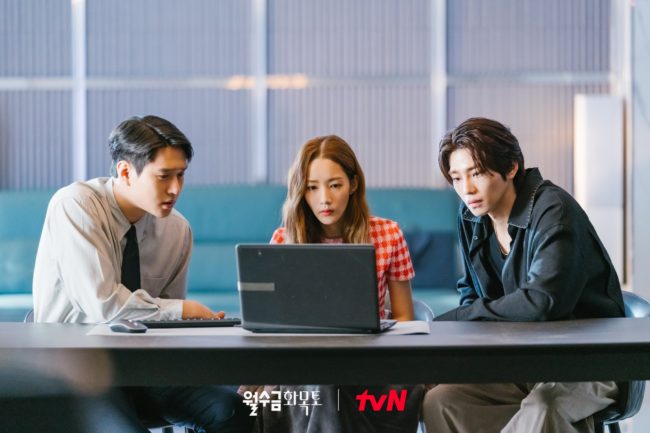 ---
Photos: tvN Drama