My ID is Gangnam Beauty takes you to a steady and saccharine spectacle of young love.
It was the well-blended youth cast, simple yet contemplative conflicts and endearing love pairing, which propelled the amazing run of jTBC's fascinating romantic comedy – My ID is Gangnam Beauty.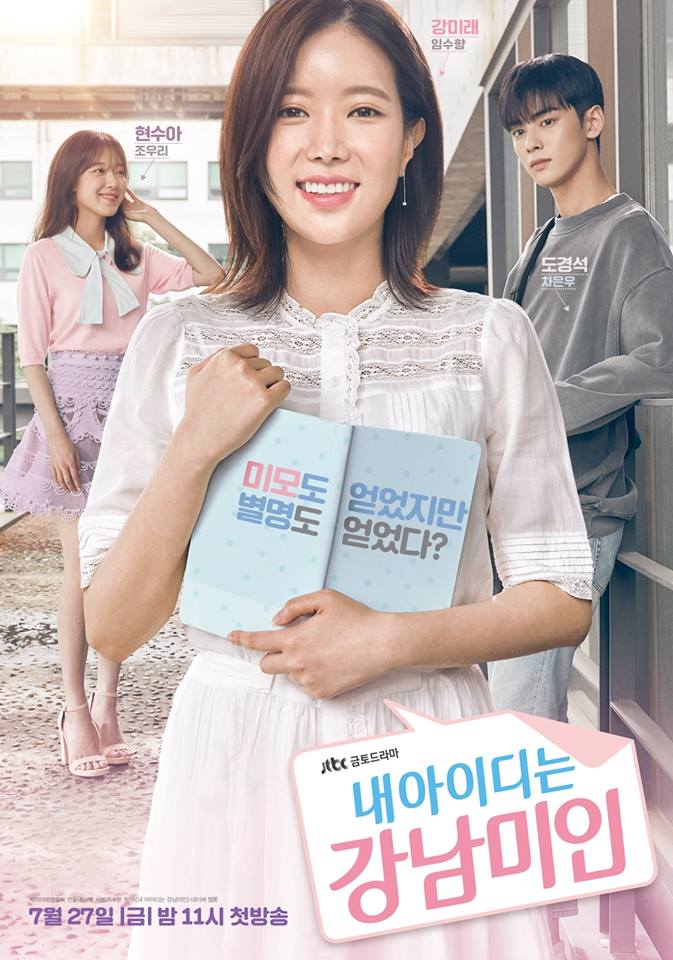 Main Leads: Im Soo Hyang, Cha Eun Woo, Kwak Dong Yeon, Jo Woo Ri
Highlights: Well-defined Story Movement, Addictive mood, Enticing Love Progression
Romance/Addictive Meter:
Overall Rating:
Rewatch Value:
Related Dramas: Weightlifting Fairy Kim Bok Joo | Mischievous Kiss |

True Beauty
Unlike the typical youth dramas staged in school setting, My ID is Gangnam Beauty veers away to the taxing depictions of youth characters, who seem to have taken all the problems of the world. Although it has problems, the series wisely chose character-centered issues that does not involve school politics, enabling a more sane resolution.
It also deviates from pointless involvement of the adult cast that are usually out of place to the story trajectory. Instead it culminates to a resolution covering varied emotional woes and self-doubts college students have aside from the usual studying troubles they face each day. That makes all the difference since realistically speaking, more than school grades and future plans, students' pressing concerns are really having their crushes love them back. *wink
That being said, Kang Mi Rae and Do Kyung Seok's story opt to focus on the campus romance plot and the heroine's acceptance to claim what makes her happy as a woman, while having a reliable boyfriend who accepts her inside and out. A smart decision – since it easily taps into the audiences, who would have fond memories of their very own school romance story.

---
My ID is Gangnam Beauty Peak Points
Intoxicating Plot Drive & Engaging Cast
I'll be honest that 25% of why I tuned in to My ID is Gangnam Beauty would be because of Cha Eun Woo. There's just something therapeutic in him that takes away a weeklong stress for noonas like me. I'm sure fellow ladies feel the same.
Having the premise of a cute guy who falls in love with his middle school classmate who went under the knife to become beautiful, feels better than fairytales, because it highlights the unrequited love of the boy who cares more about the inner beauty of the girl he likes.
While the male cast did their homework in making the lady viewers swoon with their manly appeal and endearing frames, Mi Rae and Soo Ah focused on the women empowering lessons of the story.
Courageously showing the frailties and vulnerabilities of women, no matter how indecisive and greedy they have been in the story, the lingering nudge to women of finding happiness on their own is one of the many lessons it has imparted.
---
Well-defined Story Movement
My ID is Gangnam Beauty threads on the journey of Mi Rae to claim a new life of happy memories – which is a complete reversal from her growing up years when she was saddled by constant bullying due to her ugly face. Viewers witnessed her emotional breakdowns as she hesitantly fulfills her bucket list while constantly fighting off the insecurities she acquired from the past.
At some points, her inhibitions to reciprocate the love professed by an almost perfect man might have made the audience exclaimed "aigoo", but it is her flaws which drove the satisfying romantic flow in the story.
Light and fluffy, the transition to highlight the romance plot, features the other characters moving significantly in the story. A feat normally overlooked in romantic-comedy, which tends to make use of the love line incessantly to ride on the popularity.
The series made sure it gives proper exposure, motivation, explanation and send-offs to each of the main leads. The student cast was not pictured detached nor fillers through the balance treatment of the narrative and its love frosting.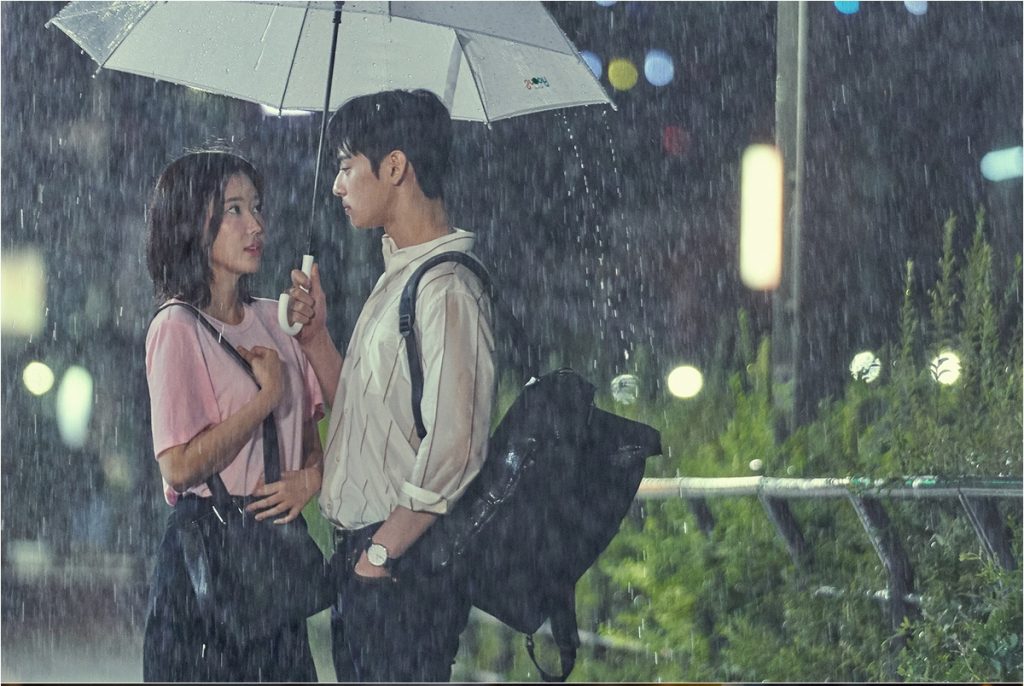 ---
Enticing Love Progression
Mi Rae's path to confront her insecurities so she can own the love she does not think she deserves hits highs and lows until she emancipates herself from caring about the opinions of others. During those times, Kyung Seok patiently waits for his woman to find her worth, ultimately rewarding her by being the sweetest boyfriend he can ever be when she finally claims it.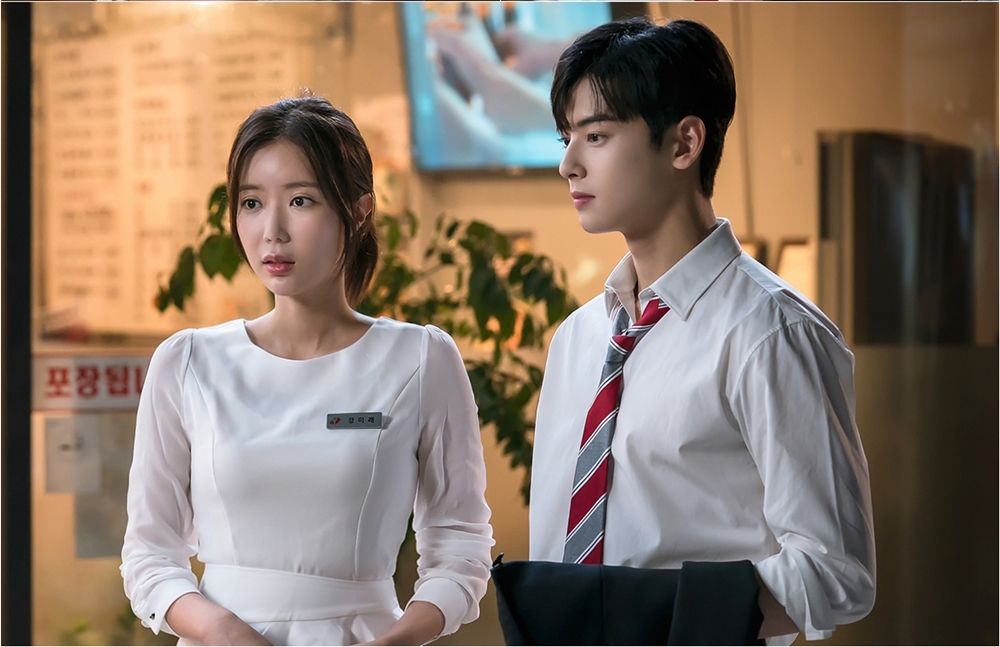 ---
My ID is Gangnam Beauty Series Musings
My ID is Gangnam Beauty thankfully proves how youth dramas do not warrant immature characters, while treading on excess baggage of being young, chasing dreams, and discovering love.
It easily hooks due to its refreshing mood, and successfully elevates its game through romantic notes in the waning episodes.
One of those rare few youth dramas that I gladly recommend if I will be asked for K-drama suggestions on the spot, because of its nicely paced, decently acted, and engaging overall appeal.
---
Photos: tvN