A breathtaking love journey that endears highlights What's Wrong With Secretary Kim?!
There was no dull moment on watching the romance blossomed for the love couple of What's Wrong With Secretary Kim Embellished with saccharine scenes and made even more lively with ample quirks, Park Seo Joon and Park Min Young's collaboration was a darling treat for rom-com followers.
Rating-wise, the workplace drama succeeded with flying colors for keeping impressive ratings as well as ranking well in terms of an online presence. But the addictive spur that did not waver in each episode was what had made the series commendable.
Main Cast: Park Seo Joon, Park Min Young, Lee Tae Hwan
Romance/Addictive Meter:
Overall Rating:
Rewatch Value:
K-Dramas of Similar Vibe: Strong Woman Do Bong Soon | The Greatest Love | She Was Pretty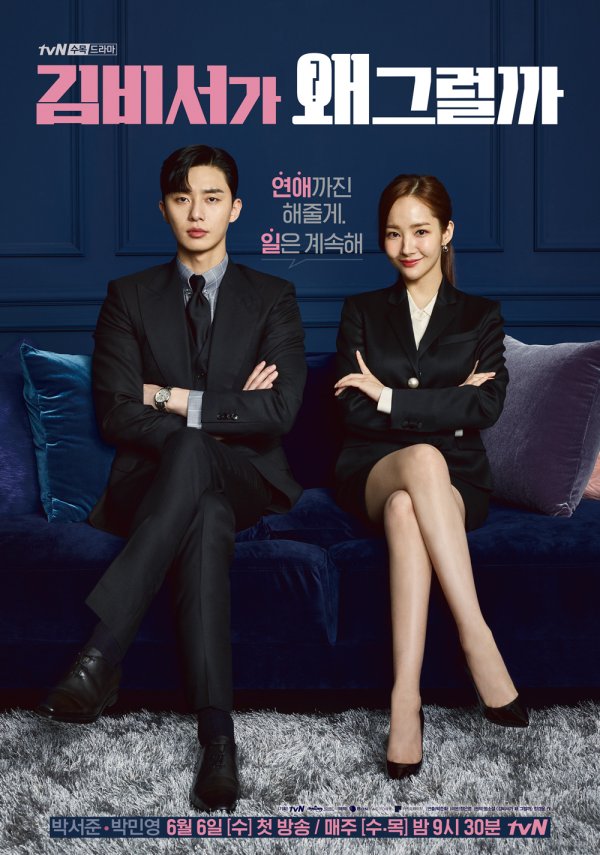 ---
What's Wrong With Secretary Kim Peak Points
Adorable Love Pairing
What's Wrong With Secretary Kim yields strong can't-wait-for-next-episode moments as the cute interaction coupled with heart-fluttering scenes permeate into the viewers' love veins.
The romantic sketch of the debonair boss, who had a mental breakdown when his secretary of 9 years decides to resign from her post, might appear as a typical premise. But when Park Seo Joon prances with his adorable narcissistic rendition of the self-absorbed boss who eventually comes to terms that love is something that can't be solved by his nimble mind, we got an impressive weekly showcase of his love adventure to keep the only woman who can understand him by his side – not as a secretary anymore but his wife.
Complementing the bizarre businessman is the diligent secretary, who has grown together with him – not knowing that they share a poignant traumatic moment when they were young. Her optimistic attitude subdues the adorable hubris of her boss Young Joon and eventually allows the latter to uncharacteristically bend his principles to give way to the love he feels toward Mi So.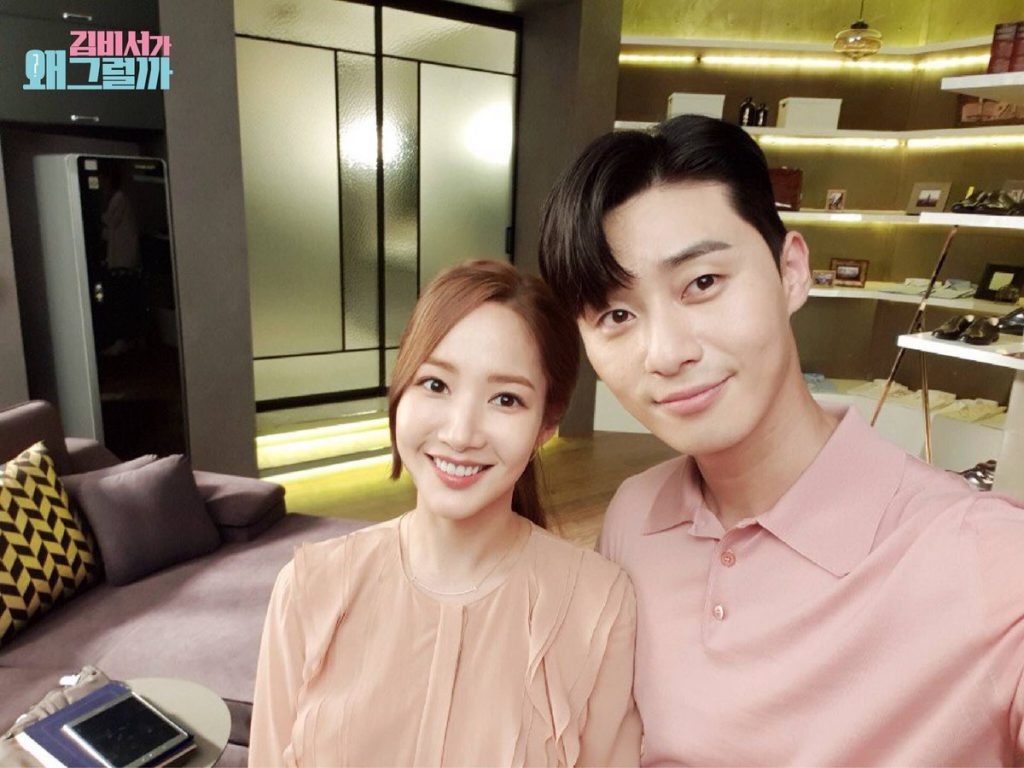 Bountiful Sweet Frames
Park Seo Joon and Park Min Young power the addictive magic of the series by keeping it high on the love notes in throwing sweet captured frames each week.
Though traipsing on vanilla romance, finding the meaning of love from disregarded moments over the years warrants a satisfying ending, based on the mutual emotions that Young Joon and Mi So have for each other that are only belatedly realized.
Adorned by ample humor, heart-stopping lip-locks, and sincere love intentions and declarations, What's Wrong With Secretary Kim has been nothing but a giant bubble wrap that spoils the hopeless romantics.
Refreshing Romantic Comedy Spirit
The mirth and sweet sigh-inducing scenes seem never-ending and just keep on getting better for tvN's top-rated romantic comedy this year. Even the side love stories function well in breaking the saturation of the main lead's love story as they highlight scene-stealing hilarious moments before reaching their own love acknowledgments.
We swear that we still laugh remembering the "rescue-her-bra-pad" and "don't-tell-my-suit-secret" scenes. The series makes sure to treat fans with a huge amount of fan service drawn from a wistful reminiscence of being in love.
---
What's Wrong With Secretary Kim Series Musings
Detached Supporting Cast
While the supporting cast is being injected every now and then with hilarious moments and respective love lines, What's Wrong With Secretary Kim honestly suffers from inadvertently under-utilizing its other characters, because the focus on the love story supersedes the side stories.
When you look back on the episodes, you would vaguely remember the scenes relating to the secondary cast members aside from their expected happy endings. Even Lee Tae Hwan's role is bland. It fails to project an engaging dimension, hence his presence is deemed forgettable, except for a faint redeeming moment in the dying minutes of the series.
The commendable buildup of romance has enabled the audience to disregard how the talents of the supporting cast seem to function like commercial breaks to the main-love-couple-centric narrative. For sure fans still dare not complain about it much though, because the drama enchants with its rom-com hook.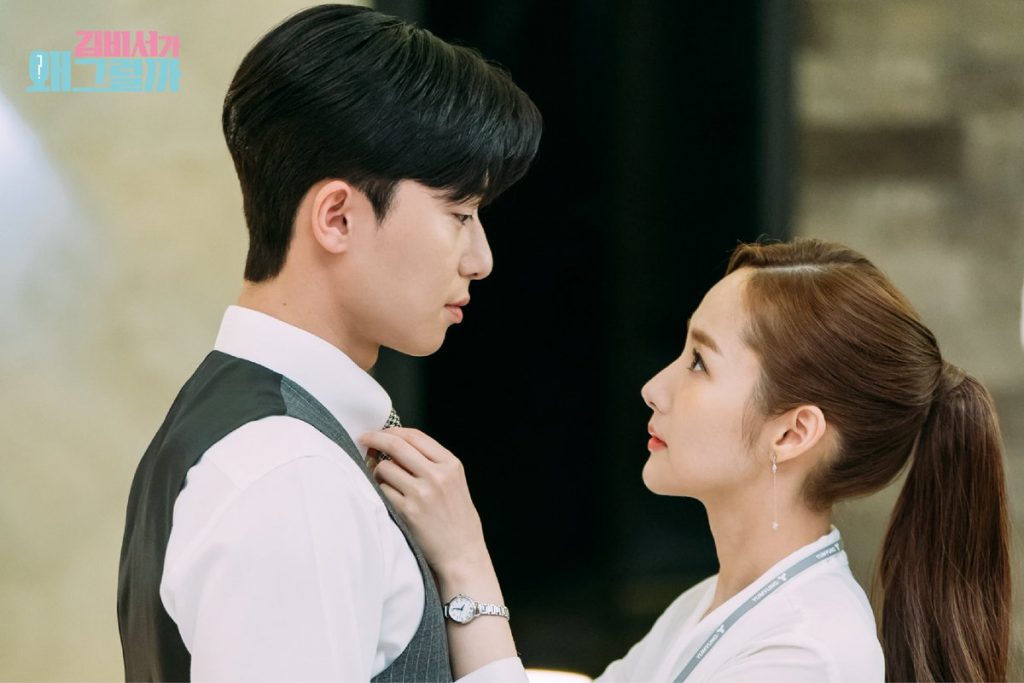 Minimal out-of-place plot gaps
The back story of Mi So and Young Joon's shared childhood trauma connecting to the love triangle conflict with the Lee brothers did fail to achieve a convincing punch. It felt like a puzzle piece that held the continuity of the story, but it did not resonate with the significance of the growth of the characters.
It had visible gaps in terms of linking the male leads unresolved angst towards each other, but the candied moments enabled the viewers to forego the shallow plot conflict which connected the estranged brothers and the heroine.
There was no wasted episode in What's Wrong With Secretary Kim – even with the parade of acceptable cliches. The engrossing mood explained well the immense following it has generated throughout its run.
Park Seo Joon and Park Min Young amplified the delightful storytelling by suiting up to their roles with remarkable immersion that it was impossible not to wish them to have a reel-turned-real-life romance.
While it did not have a neatly written and creatively imagined plot, it was still an enjoyable watch that would make you smile and laugh. It banked on the perfect execution of the couple's love journey and targeted people, who preferred light and a comfy story full of romance and heart flutters.
Don't miss out on these K-Drama Recommendations:
---
Photos/Videos: tvN | 1TheK