Both entertaining and intriguing, Zombie Detective grabs viewers' attention with its unlikely combination — zombie as the main hero and human as its enemy.
If you are not yet convinced by that concept, keep reading, and maybe you'll give this drama a shot. I'm sure you won't regret watching it, especially if you are a huge fan of comedy K-dramas!
Main Leads: Choi Jin Hyuk | Park Ju Hyun
Thrill/Addictive Meter:
Overall Rating:
Rewatch Value: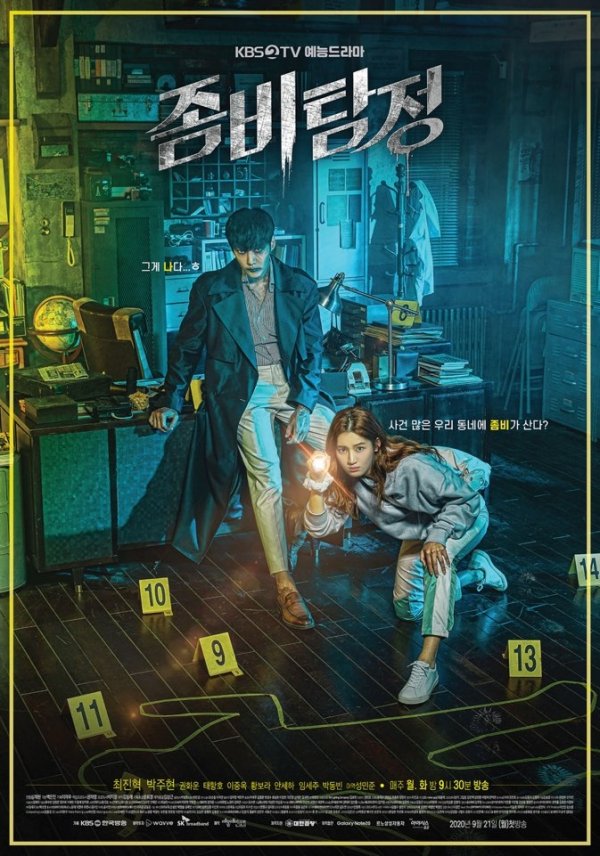 ---
Zombie Detective Series Recap
Set in the peaceful city of Gangrim, Zombie Detective follows the story of Kim Moo Young (Choi Jin Hyuk), a zombie trying to blend with the human populace.
But before actually living with the people, his first existence began as he found himself lying on a landfill. He has no memory of his past or even who he is. Unknown to him what his true identity is, he examined his body and actions. His rotting body was filled with flesh wounds and holes — yes you read it right! And when he tried to speak, he can't voice out proper words.
With those signs, he concluded that he is a zombie! But, unlike zombies that we know — the aggressive type and with ravenous appetite — he's surprisingly a kindhearted one. The other way around, he is afraid of people.
Because of that, Moo Young trained himself to walk and talk like a human being so that he won't get noticed. He adopted someone's identity, who is a private detective. Thanks to his strong sense of smell and fighting skills, he has earned money for him to get by.
However, he realized that something was missing. He wanted to know his past, why he became a zombie, and his real identity.
Like a blessing in disguise, he met the overly passionate current affairs writer with a strong sense of justice, Gong Seon Ji (Park Ju Hyun). They work together to find his past and along the way, they found out how he is related to one of her previous cases.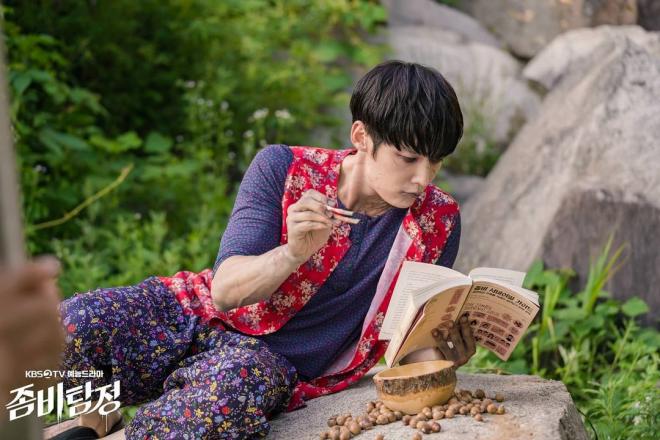 ---
Zombie Detective Series Highlights
The Spectacular Kind Zombie
Throughout its 12 episodes, we witness the journey of the zombie, Kim Moo Young trying to live with "what we thought of" his target — the human.
Although he is in fact a real zombie, on the contrary, he was threatened by the living. He has a heart of gold! Before turning into a zombie, he remembers nothing about his identity, past, and the reason why he became like that.
While he mysteriously had the chance to somehow be born again in a form of a zombie, he witnessed —through a different perspective — the cruelty of people. But because he was a human before, he is well aware of his actions, thus, he still knows what's the right thing to do. He chooses to live within the boundaries of people, and can't stand injustice.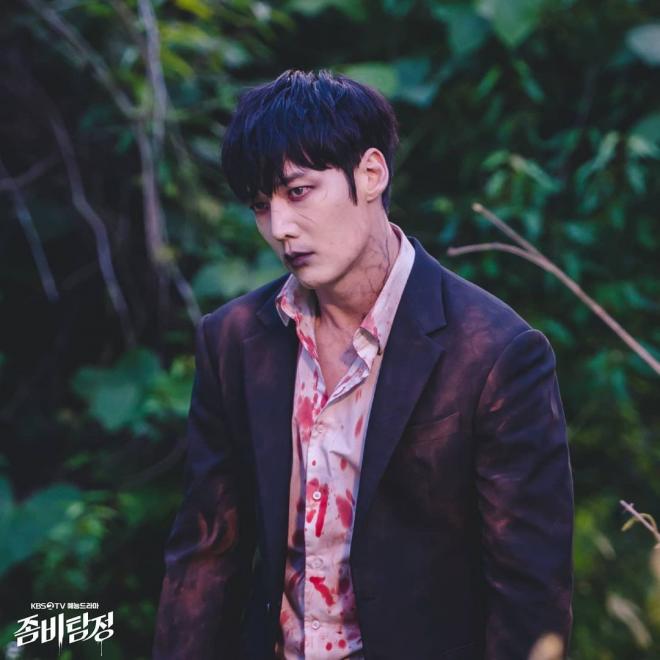 ---
The Quirky Supporting Characters
Aside from the lovely main leads, each of the supporting characters had their own charm too. One of the closest to Kim Moo Young — the two clumsy neighboring detectives who look like they've come out of the '80s. Although they were shown as incompetent in their field of work, they have a softer side when talking about their loved ones.
The female lead's fun-loving family who always bickers but care a lot for each other at the end of the day, the three clever kids, Seon Ji's sassy friend, and the amiable police station gave delight to the show. They brought Seon Ji's brother-in-law's movie scripts to life in a slapstick humor style.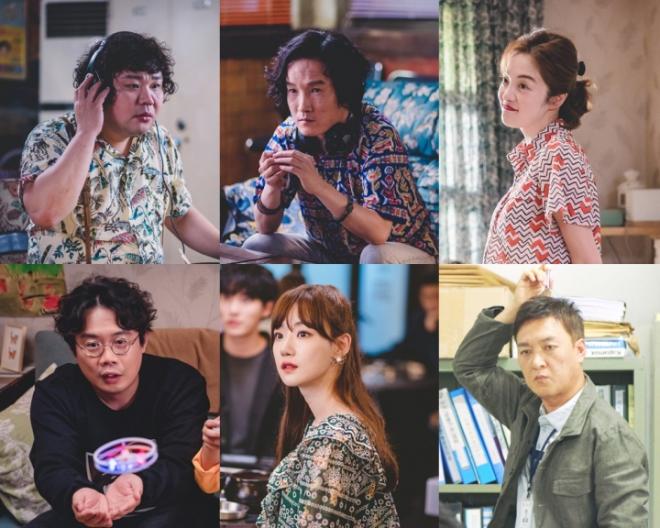 ---
Zombie Detective Series Musings
Living up to the initial expectations, Zombie Detective did not disappoint until the end. It is addicting from the very beginning. There are no boring moments at all, and the scenes are also unpredictable. It gives the thrill, and at the same time, lets you go with its flow.
The uncanny concept of making the "zombie" the focal character is a fascinating idea. One of its strengths is the comic relief presented is not overdone, just the right touch.
All aspects, including the mystery behind Moo Young's death, are likewise, intriguing. Plus, the synergy between the characters is great. They shine whenever they are on screen together.
What truly captures attention are the delightful scenes. Viewers would get free comedy bar sessions with Seon Ji's sister and his brother-in-law.
Notably, the series threads on a unique context — the world from a zombie's point of view.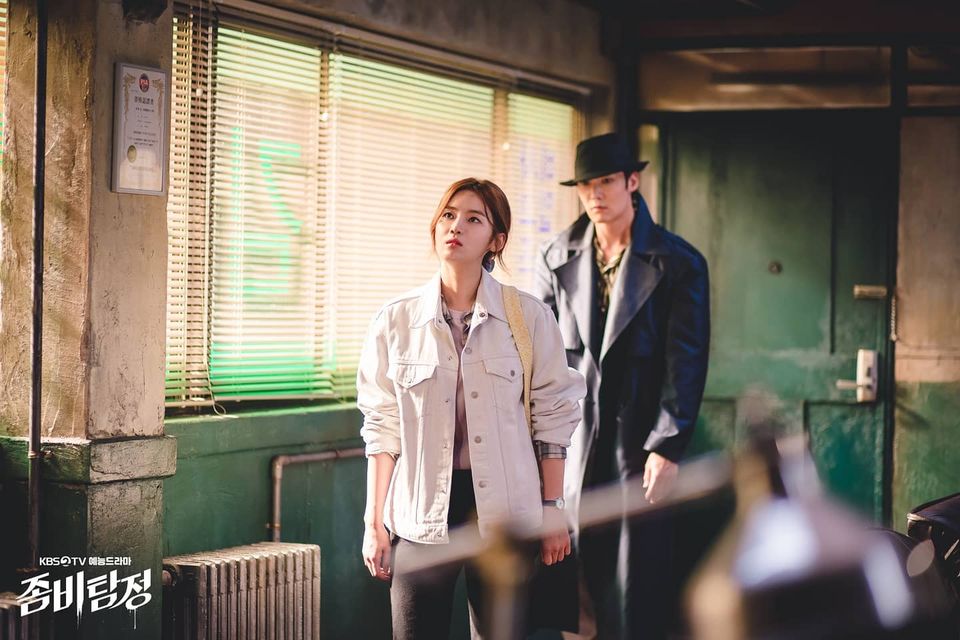 Appealing to the general audience despite the protagonist usually being labeled as a dark character, Zombie Detective is wholesome and warm. It even gives you these strange consoling moments for its comic relief.
It has a particular charm and a radiant energy that will never fail to make someone laugh, or put a smile on someone's face.
Though having just 12 episodes in total, the narration kept concise does not diminish the excitement. The writers have finely woven the sub-plot of the murder case connected with Moo Young's back story and his connection to Seon Ji.
While it has a light take on the supernatural concept, it mixes mystery and comedy elements fairly.
If you need a break from heavy dramas, make sure to check out Zombie Detective!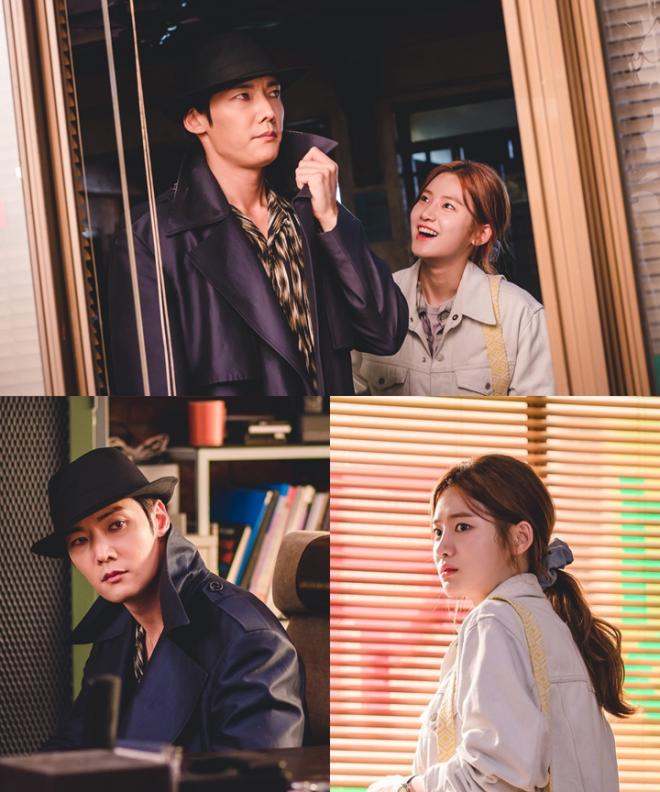 ---
Photos: KBS2