The anchor character of Dr. Romantic 3 is seen with a faint smile while surmising something in the latest teaser.
Dr. Romantic narrates the story of an amazing triple board-certified surgeon, Boo Yong Joo, who shunned his life to a remote provincial hospital when he became a victim of politics in the big city hospital he worked before.
The stories of the characters featured in the series display a microcosm of the real world that anyone is familiar with. Tinged with harrowing moments, the series shifts to a vibrantly colored memory at a swift turn.
Notably, Season 1 in 2016 and season 2 in 2020 scored impressive viewership ratings reaching as far as 27%.
K-Drama Review: "Dr. Romantic" Heals With Well-Depicted Characters That Left Life-Affirming Lessons

K-Drama Review: "Dr. Romantic 2" Prescribes Lessons Celebrating The Gift Of Life
Previously, the teaser poster of Dr. Romantic 3 draws attention with a picture of the doctor's office at Doldam Hospital, where warm sunlight seeps into the room. Accordingly, the same doctor's office now presents the owner to be Han Suk Kyu.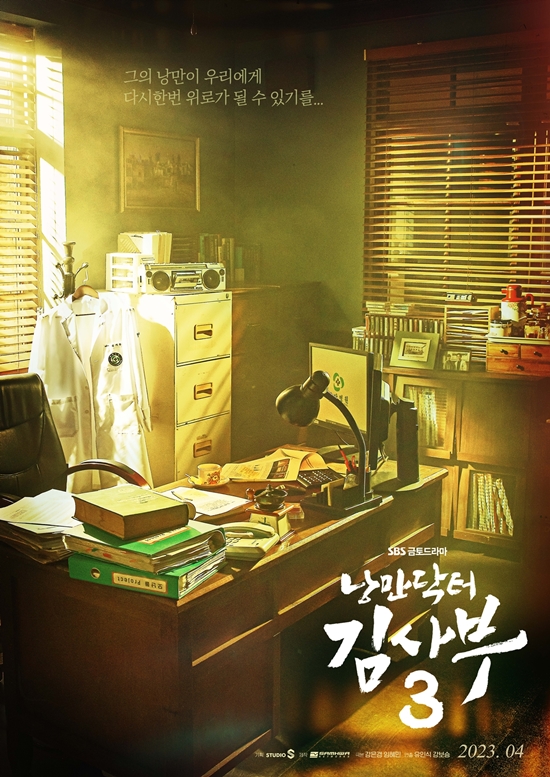 For the 3rd season, most of the cast members from the last season are joining. Lee Shin Young (Awaken, Crash Landing On You) and Lee Hong Nae (Inspector Koo, The Uncanny Counter) are the new characters to anticipate in Dr. Romantic 3.
Recently, Han Suk Kyu overwhelmed the scene by exuding the charisma of Doldam's eternal mentor and geeky genius doctor Master Kim.
"Dr. Romantic 3" Kickstarts Excitement For New Season With Released Table Read Moments
The second teaser poster shows the image of Master Kim, who is protecting Doldam Hospital even after three years have passed. Season 3 stimulates curiosity about who will visit Doldam Hospital and what stories and episodes will be drawn.
Meanwhile, Dr. Romantic 3 will be broadcast first in April following Taxi Driver 2.
---
Source: Sports Donga
Photos: SBS Drama