With a goal of giving new life to the home shopping world, Kill Heel vies for another thrilling series when it begins!
Kill Heel tells the stories of women enduring the intense competition in the home shopping world. They thrive and compete for power and success as hosts of home shopping shows, considering they have different personalities and skills.
Noh Do Cheol will direct the new drama with the help of writers Shin Kwang Ho and Lee Chun Woo. Previously, he directed Partners for Justice and Ruler: Master of the Mask.
A Sneak Peek At The Unveiled Behind-the-Scenes For Kill Heel
Introducing the still cuts of Kim Ha Neul, Lee Hye Young, and Kim Sung Ryung, it documents the tough battle of three women for success. Their passion and synergy boost expectations, which is palpable beyond the photos.
The incomparable pairing of the powerful actresses is the key for spectators to enjoy the series. In the drama, Kim Ha Neul plays Woo-hyeon. With her burning passion, she aspires to be a great program host.
Lee Hye Young portrays Ki Mo-ran, the heroine of a self-created narrative who rose from being a normal employee to vice president. Focusing on the fierce battle, Ok-sun (Kim Sung Ryung) shows a high-class home shopping signboard show host from her birth.
Meanwhile, the rear perspective of the three women from the filming set catches notice in the published photos. It exemplifies the hyper-focused approach in which the script is never let go, even for a little while.
Additionally, they are keeping a close watch on and monitoring their performance.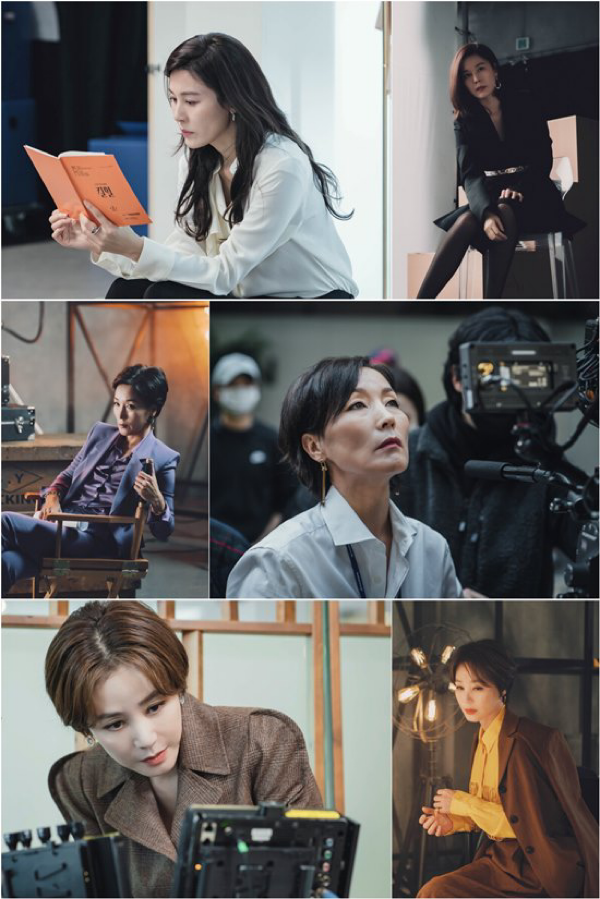 The Main Leads Strong Visuals
Acquainting viewers to their dramatic visuals, the behind-the-scenes teasers are placed against the thriving backdrop of dynamic home shopping; it is just another reason to wait for Kill Heel. Furthermore, it reveals the three actors' profound charm as they complete their synchronization with the role, which transforms expectations into confidence.
Notably, the production team believes that the chemistry between Kill Heel's main leads will be ideal for the series.
"The synergy of Kim Ha Neul, Lee Hye Young, and Kim Sung Ryeong, who skillfully lead the story that fluctuates without rest, is more than perfect. It will be a work that can confirm the true value of the unrivaled actors, from their excellent control of the speed to their delicate emotional lines."
Kill Heel premieres on March 9 at 10:30 p.m., two weeks later than originally scheduled to allow for a steady production environment in consideration of the COVID-19 situation.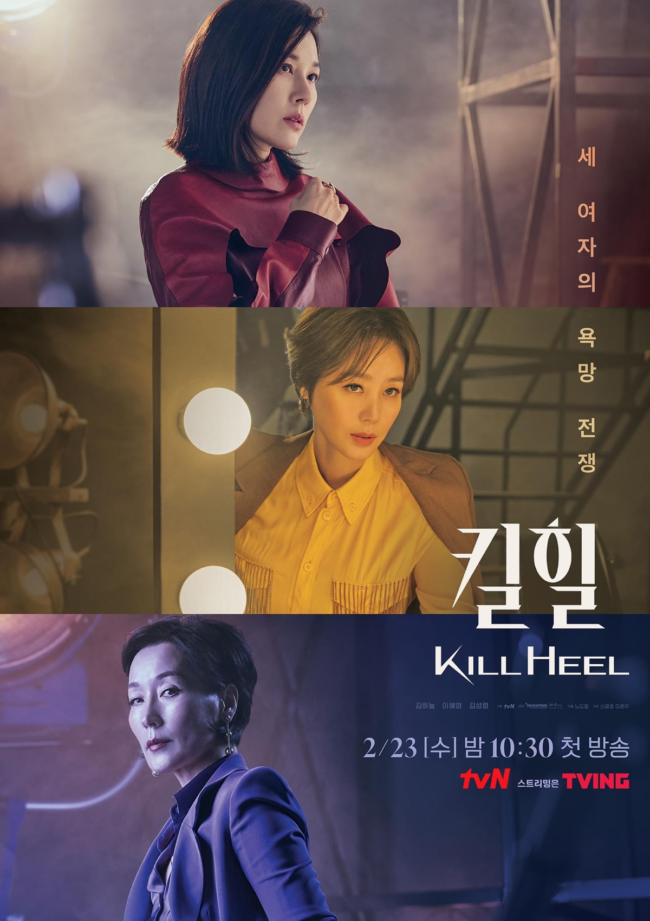 ---
Source: Sports Donga | Xportsnews
Photos/Video: tvN