Setting a terrifying atmosphere inside the campus, 
The Great Shaman Ga Doo Shim 
reminds the youth that instilling fear and academic achievement should not hinder pursuing their dreams.
Unlike most Korean campus romance drama series, The Great Shaman Ga Doo Shim showed a heavier and mystic narrative about students. It reflects the struggles of the youth, proving that they have their personal battles to face. 
Main Cast: Kim Sae Ron | Nam Da Reum |

Supporting Cast: Yoon Sun Ho | Moon Sung Geun | Yoon Seok Hwa | Bae Hae Seon | Lee Ji Won | Yoon Jung Hoon | Han Je In | 

Streaming Site: 

iQiyi
Thrill/Addictive Meter:
Overall Rating:
Rewatch Value:

K-Dramas of Similar Vibe: Hotel De Luna | Moorim School | Bring It On, Ghost |
sun_drae watches The Great Shaman Ga Doo Shim on iQiyi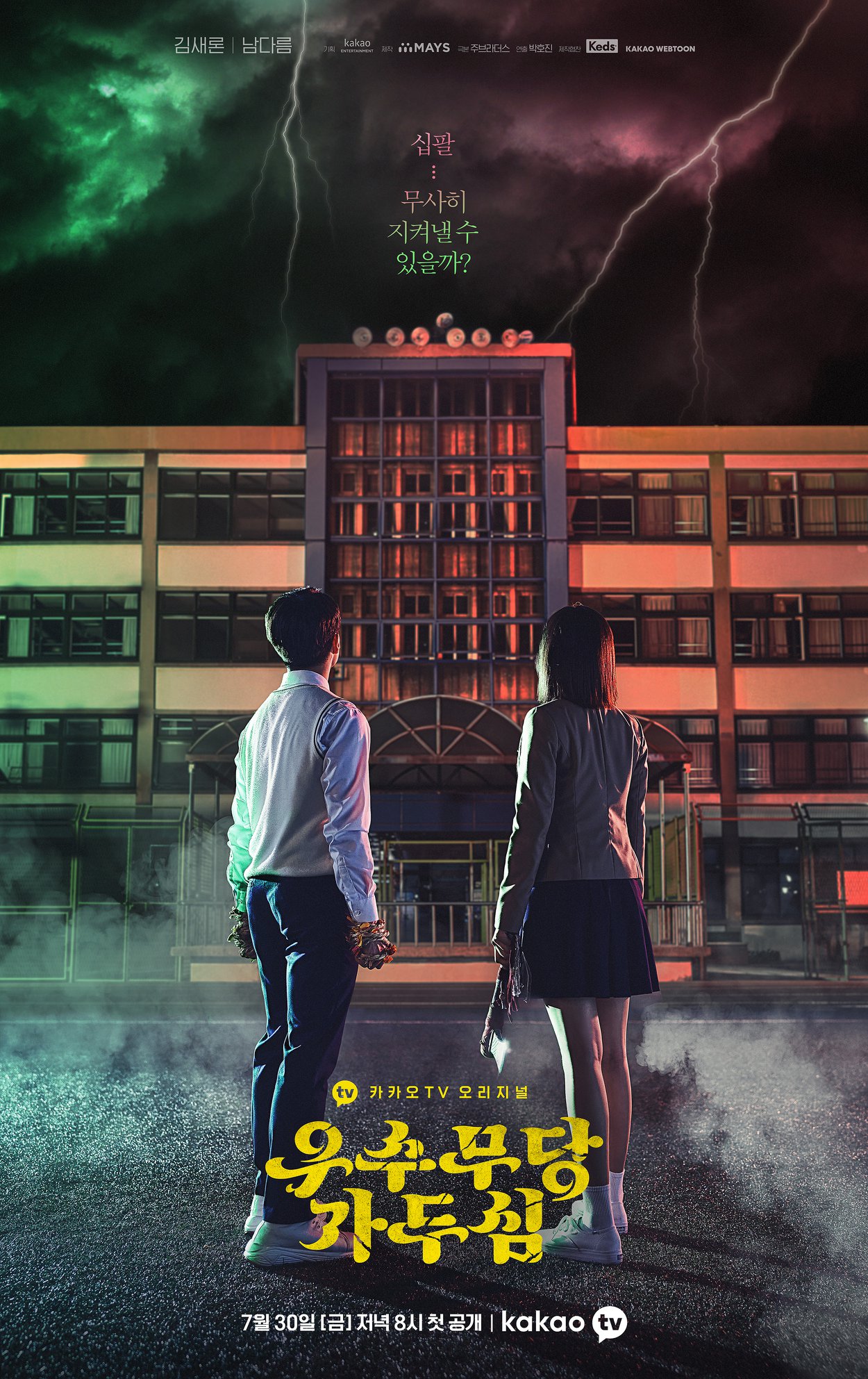 ---
The Great Shaman Ga Doo Shim 

Quick Plot Recap
Portrayed by the child actress, Kim Sae Ron, Ga Doo Shim does not want to accept her fate as an evil spirit-chasing shaman since her grandmother's (Yoon Seok Hwa) death. Nevertheless, she continues to possess power that reminds her of having to live the life as other normal people do if she could survive being eighteen.
On the other hand, another child actor and a familiar face in the Korean drama industry, Nam Da Reum, plays Na Woo Soo. He is known as the golden boy at their campus and came from a well-off family.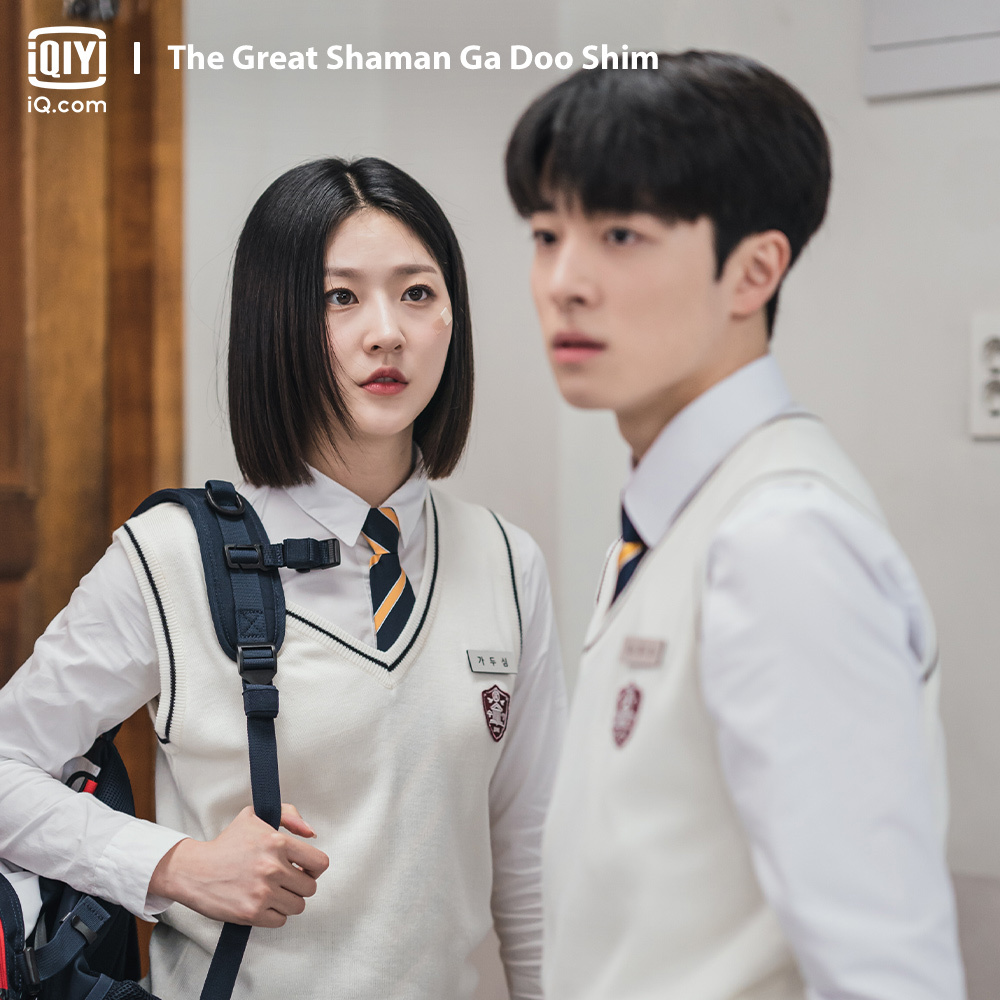 His studies and "perfect" teenage life changed as he met Ga Doo Shim. While fate continues to intertwine them, Na Woo Soo starts to see and communicate with spirits. 
With that, the two worked as a team and slowly accepted their fates. Fuelled by their love to protect their loved ones, Ga Doo Shim and Na Woo Soo tracks the evil spirit that targets academically challenged students. Through their mission, friendship and romance buds between them. 
---
The Great Shaman Ga Doo Shim

 Series Peak Points + Musings
Fresh And Underrated Cast 
The actors of the series both have familiar and unfamiliar faces throughout the story. Even though most of the characters are performed by rookie actors, they outshined veteran personalities, such as Kim Sae Ron, Nam Da Reum, Moon Sung Geun, and Bae Hae Seon. 
Korean singer and actor Yoon Sun Ho showed his potential through multiple supporting roles throughout his five-year acting experience. He portrayed Hyun Soo in the series, who has a tragic death because of the evil spirit. 
Furthermore, actress Lee Ji Won incredibly performed an antagonist role as Jo Soo Jung. Though she has less screen time than other supporting actors, she made sure that her lines are delivered fiercely and compelling.
Similar to Jo Soo Jung's character, actress Han Je In played the role of Lee Ae Kyung. She also portrayed a realistic character where every student can relate to. The series bravely showed and communicated about depression and suicidal thoughts that many experienced and still facing.
Lastly, Yoon Jung Hoon played a pivotal character, Kim Il Nam. His character gave light to the life of a working student. He became the target of the evil spirit because of his low grades that are affected by working at night. 
Overall, the cast performed their roles well and narrated different stories of young people with different struggles. Also, keeping in mind that this is only a mini-series, their character development is weak and feel rushed. 
Quick And Meaty K-Drama Series Binge Watch
I highly recommend The Great Shaman Ga Doo Shim to those who have no time to watch hour-long episodes. Even though the series is short, it deeply conveyed the message they want to communicate. 
At first, I'm not amused with its plot where an evil spirit only catches academically challenged students. However, as it ended, it has a lot more meaning and story behind it. 
It focuses on the lives of students and how they face and accept their fate without knowing the world that will welcome them in the future. In addition, it showed the sad reality of education where students are pressured by the expectations of society and their families. 
Through this series, it made me realize that students should not be trained in a "no pain, no gain" environment. One should not suffer first to achieve, even if it means sacrificing your mental health.
This series proves that facing one's fate or problems is easier if someone is willing to do it with you. 
Watch the adventures of The Great Shaman Ga Doo Shim on iQiyi!
---
Photos: Kakao TV
[wpedon id="3227″ align="center"]