Conspiring to thwart Yi-hyun and Sae-bom for their selfish needs, the villains have pulled a wild card in the 8th episode of Happiness!
Knowing how little kindness sprang from the hearts of most of the tenants, this chapter marked unexpected betrayals and worth-fearing connivance.
abbyinhallyuland watches Happiness on iQiyi

Episode Recaps: 01 & 02 | 03| 04| 05| 06 | 07 | 08 | 09 | 10 | 11 | Finale + Review |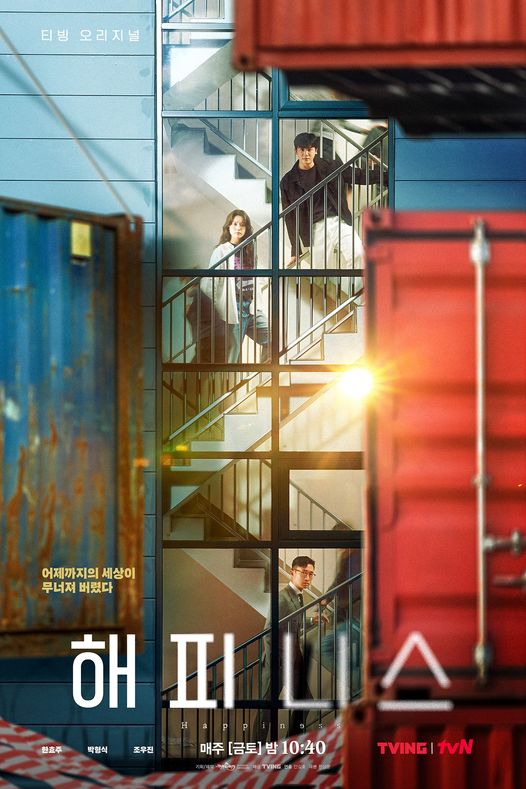 ---
Happiness Episode 8 Key Moments
"He has religion now. He even prays before he sleeps."
It's three days before the lockdown can be lifted. The newlyweds brought some water containers on the rooftop as Yi-hyun, the human weather forecaster sensed water coming down from the sky. Another day means another set of complaints and requests from the trapped people.
Their morning meeting is to vote if the cleaning couple and their worker can move their room because their temporary place stinks. Building representative ajumma refused already and so are the other tenants. Indeed, the rain came and the tenants were able to get some water.
Worried about her brother, Na Hyun-kyung checks on Soo-min who still thinks he's okay. When the building cleaning lady sees Yi-hyun and Sae-bom, she alerts them of bloodied clothing she found from the waste plastics. The two rush to check the units where the suspicious clothing was found.
Boasting his advanced investigative skills, Yi-hyun goes straight to the point scaring Hyun-kyung. But she denies hiding her brother in her place. It turns out she hid her brother at a different unit. She settled Soo-min at the very same unit the cleaning couple asked to stay with but got declined.
They also learn that Oh Ju-hyung brought food for Soo-min and offers for him to get inside. But Soo-min refuses since he's scared he might bite people. Over at unit #302, Dong-hyun calls Bo-ram about his suspicion about his mother getting infected. Bo-ram who can't stand how Dong-hyun worried about being infected more than his mother's situation refuses to cooperate with him.
"What if the lockdown doesn't end tomorrow?"
It's D-Day to the lockdown lift. But it's likely not going to happen. A new announcement declares the extension of the lockdown indefinitely. More contention arises as Oh Yeon-ok (building representative ajumma) and Oh Ju-hyung connive to cause more problems.
They interrupt a rare sweet moment from Yi-hyun who explained the strange behavior of Detective Kim similar to what happened to him before. He confessed that Sae-bom helped him in those trying times when his injury ended his baseball dream.
After demanding Soo-min to be quarantined when they found out his existence at the 11th floor vacant room, they also use Detective Kim to betray Yi-hyun and Sae-bom. Meanwhile, Dong-hyun leaves their unit bringing in their stock to stay with the cleaning crew.
Triggered by being fooled about the pills he thought to induce the virus, Ju-hyung learned that Yi-hyun switched the pills. But on their way out, the con artist couple with Ju-hyung's mistress and Detective Kim stop their tracks. Bent on the possibility that she could be infected, they demand Sae-bom be quarantined.
---
Happiness Episode 8 Musings
Aside from interrupting an almost sweet moment between Yi-hyun and Sae-bom, the villains are moving even more remorseless with their actions. Them deciding to work together seem to be more dangerous than the rapidly spreading virus.
Cleverly utilizing its thrilling pace, the series impressively began its redemption plan for the lead characters. We saw Tae-seok serving a dose of their own medicines to the infected rich and powerful. We can only hope that his family survives the same ordeal.
If the virus gets a cure, Sae-bom and Yi-hyun can look back on their unique honeymoon days of subduing their stubborn neighbors. It's really hard not to appreciate the committed portrayals of the building residents. Especially the annoying villains.
Admirably, the subtle humor and reality lessons are sprinkled in a way that further enhances the riveting narrative. It has even thrown a faint infidelity issue we hope to be magnified later in the remaining episode.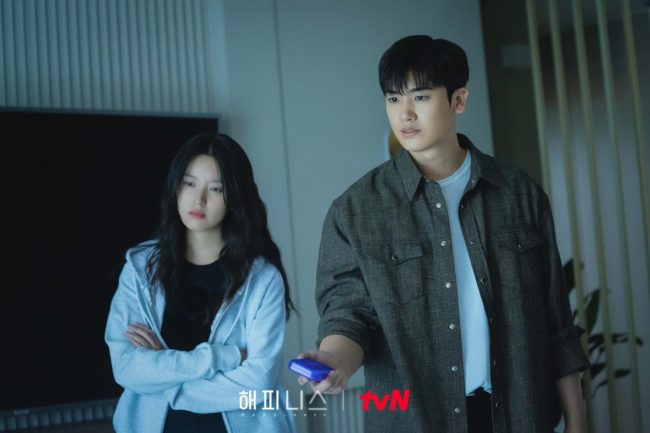 With two confirmed infected patients plus growing distrust and contention; the preview for episode 9 looks like going to cause the viewers sleepless nights as we look forward to next week's episodes. Trusting the many years of Yi-hyun working with Detective Kim, I know the cliffhanger would favor our heroes. Hopefully, Sae-bom does the retaliation
Safely crossing the point of "unfortunate crazy drama plot moment" – Happiness is a drama definitely saved for the last stretch of 2021 K-Drama season. It gives a kdramafan-affirming moment in a year when only a small number of Korean dramas stood out so far.
Can the "married friends" sustain another looming predicament?
Never miss the thrilling "new normal" stories in Happiness on iQiyi!
---
Photos/Videos: iQiyi