Showing the vibrant life of a fangirl, Her Private Life sprinted to an endearing tale without capitalizing on rom-com clichés.
Tidily executed, Her Private Life has an energizing habit of presenting its narrative in bright light as much as possible.
Fill your room with the things you love, so you can have a happy life.
A fitting description of how the series brought in scenes that K-Drama fans adored, thus making them smile.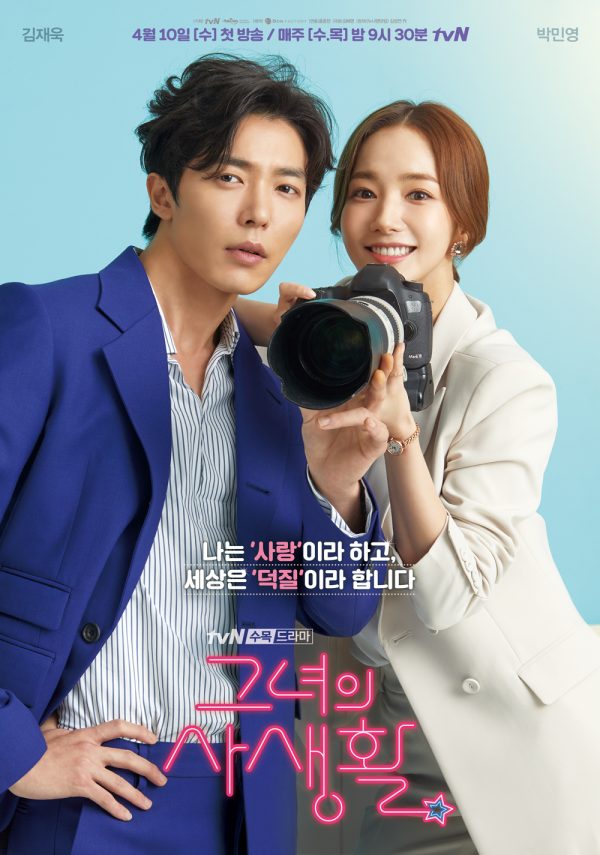 Main Leads: Park Min Young | Kim Jae Wook | Ahn Bo Hyun | Kim Bora
Streaming Sites: Netflix | Viu
Romance/Addictive Meter:
Overall Rating:
Rewatch Value: 
Related Dramas: What's Wrong with Secretary Kim? | She Was Pretty | Jugglers |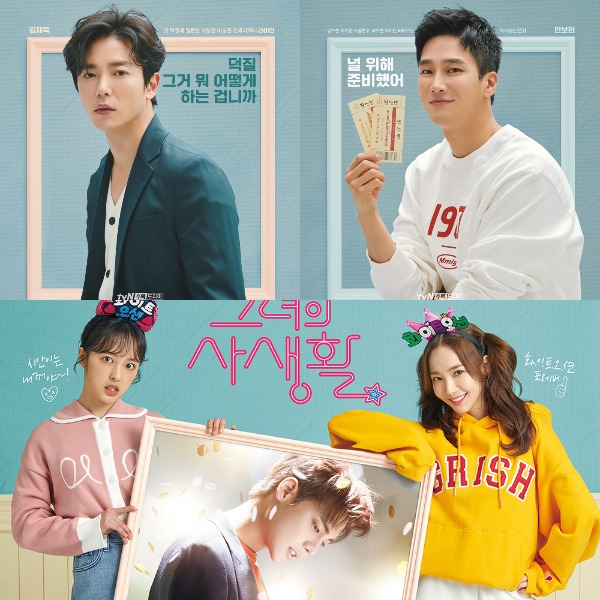 Interestingly, the viewership rating failed to register an above-average score. But it has consistently entered — even topping the most popular drama surveys, proving its undeniable appeal to the global audience.
Achieving an addictive hook from K-Drama fans, when rom-com elements are involved, is no easy task. Given the predictable themes usually incorporated in the plot. So, what makes Her Private Life an endearing treat could be attributed to how it followed the set trend, yet made sure to impel a moving story that did not over-strain the romance elements of the series.
---
Her Private Life Quick Plot Recap
Park Min Young breathes life to Sung Deok Mi. A museum curator by profession, and a passionate idol fangirl by choice. To keep her job going, she hides her other life as a homepage master and aficionado of idol group member Cha Si An.
Her fangirl life reaches a nirvanic stage when the museum collaborates with the idol to exhibit his art collection. However, a fake relationship she initiated with Ryan Gold to thwart the dating news with her favorite idol that went viral, also hits a no-return moment.
Deok Mi, the fangirl wakes up one day falling in "real love" with Ryan Gold. Hitting the jackpot, the feeling is mutual for the curator and the museum director.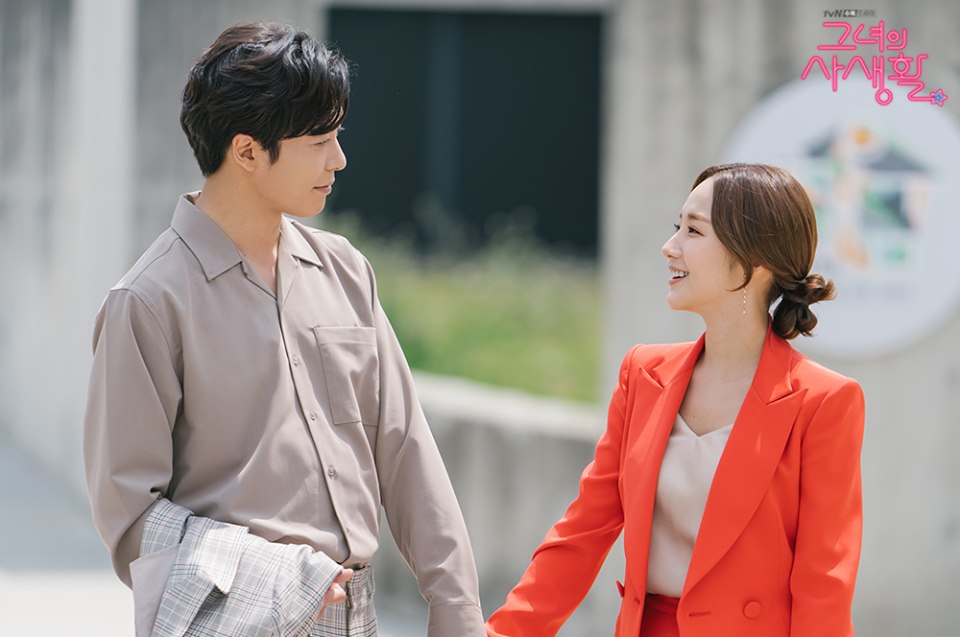 ---
Her Private Life Peak Points
Balanced Cast Screen time
For a series that does not involve a big cast like how period dramas usually are, I always take note if the milieu is love pairing centered. If it is, that's really a disappointing minus point for me. Giving shining moments to the main and supporting cast is imperative since romantic comedies usually involve light-themed conflict.
With that, connecting the small cast efficiently is worth applauding. Having a micro setting is also greatly appreciated because it yielded to the viewer fully embracing the characters. As the story proceeds, the viewers became familiar with each and every character. In turn, it does not make the less-popular characters function as fillers.
No matter how conventional, the scenes arranged for the supporting cast did not appear detached and awkward in Her Private Life. The gallery people along with Shi An have had their quiet, nonetheless fitting moments in the storytelling since the exhibit preparation ran for almost the entire series.
At Deok Mi's best friend cafe lair, the audience has learned to get used to the part-timer's clumsy hands. Additionally, Deok Mi and Sun Joo have contributed well in depicting the comic scenes featuring fangirls.
Constantly, Deok Mi's family threw in amusing acts because of their shared obsessive qualities, also spontaneous interaction like how regular families are. Although the focus of the story was evident on Park Min Young and Kim Jae Wook, its second leads Ahn Bo Yun and Kim Bo Ra provided plausible poise to keep their presence at a distinct level.
---
Addictive romantic plot
Full marks on their onscreen chemistry, Park Min Young and Kim Jae Wook embellished their love pairing with apparent commitment. Bringing to life a vivid picture of a refreshing romance, the two made sure they gleamed together. Moreover, they created each character with well-defined individual bearing.
Sprinting to a chronicle full of optimism, I like how Her Private Life is just a potent force of happiness pill. Considering how the story does not have any emotionally straining conflict, the seemingly raised complication was realizing the couple's mutual affection. Beginning from a fake relationship, how they acknowledged it notched a few heavenly sweet scenes for fans to enjoy.
In all honesty, the love admittance was the highest peak of the story. Ergo, the succeeding episodes of fan service gift were just a bonus. Following rom-com structure, the chosen featured moments for the love couple were cleverly rendered.
Making sure to please, it delighted the viewers and completed a cohering story flow. That is deemed praise-worthy, instead of a bombardment of sweet couple scenes to hide the lack of story dynamics. To accomplish a successful romantic comedy, the love story elements should be well-intended and spread.
As is the case on Deok Mi and Ryan Gold's love journey, it quelled on discovering love between them. Thereafter, it flowed to having the two be each other's fan in supporting their dreams and overcoming their personal traumas.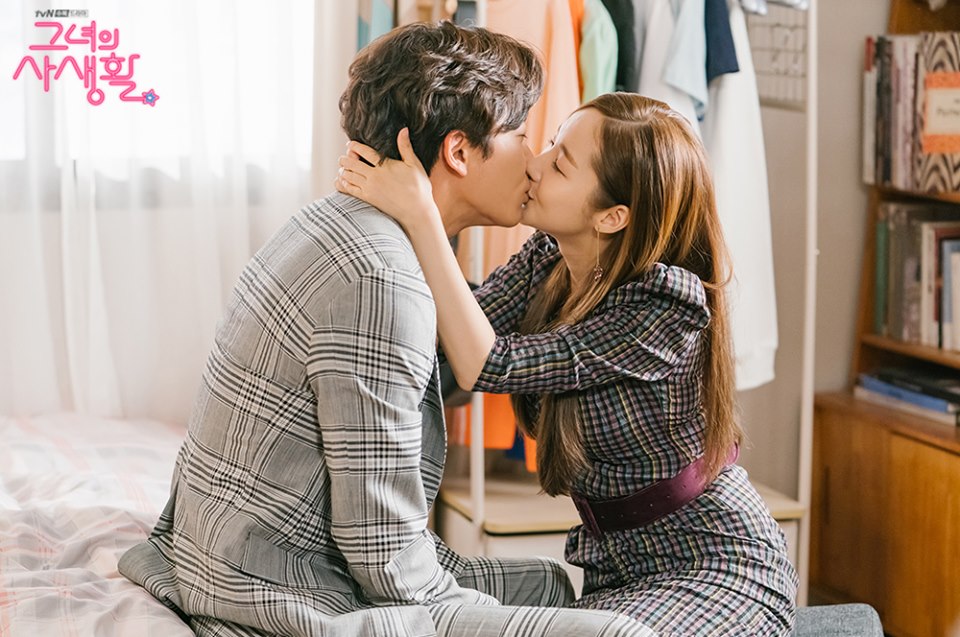 ---
Neat Narrative
By switching the setting to the gallery, cafe, judo hall, Deok Mi's houses and Ryan Gold's place; it was easy to keep track of how the story progressed in Her Private Life. Realizing love while overcoming personal struggles added acceptable seasonings to the premise that aimed to be a healing romance treat for its patrons.
Taking time to let the viewers gravitate to the lead couple Deok Mi and Ryan Gold, it made use of alternating focus on the main lead's viewpoints and their own journeys. From there, reaching mutual love admittance added a polished treatment to its trajectory.
Employing a linear storytelling approach, the decorated romantic frames propelled the addictive mood of the series. The conflicts centered on the characters' convictions, thus it darted into a spirited mood.
Even the posh villain, portrayed impeccably by Kim Sun Young, boasted endearing interaction with Kim Bo Ra, who played her daughter in the drama. Admirably, the veteran cast members furnished layers of emotions in their roles as parents of the main leads.
Excellent Music
Parading complementing music to its love tale, the original soundtracks garnished the mood to the defining saccharine highs of the series. The recognizable songs drifted to a perfect sweet coating, highlighting the best memories from Her Private Life.
---
Her Private Life Series Musings
Nothing but good vibes celebrating fan girl spirit in Her Private Life. It may be trite, but at least it went on to create a full story that did not rely strongly on kissing scenes. Proving proper placement of sweet moments is the key to a remarkable romantic comedy, the tvN treat accomplished not having dull moments on its report card.
Given the plot-heavy laden roster of 2019 Korean Dramas, this tvN series easily makes K-Drama fans put it on their favorite list this year. Kim Jae Wook's first rom-com role gave the actor an irresistible role.
Proving her bankable reputation, Park Min Young scored yet another work to add to her robust portfolio. For self-confessed and closet fangirls, make sure to add this addition on your watch list.
P.S: I won't judge if Ryan Gold becomes your life. *wink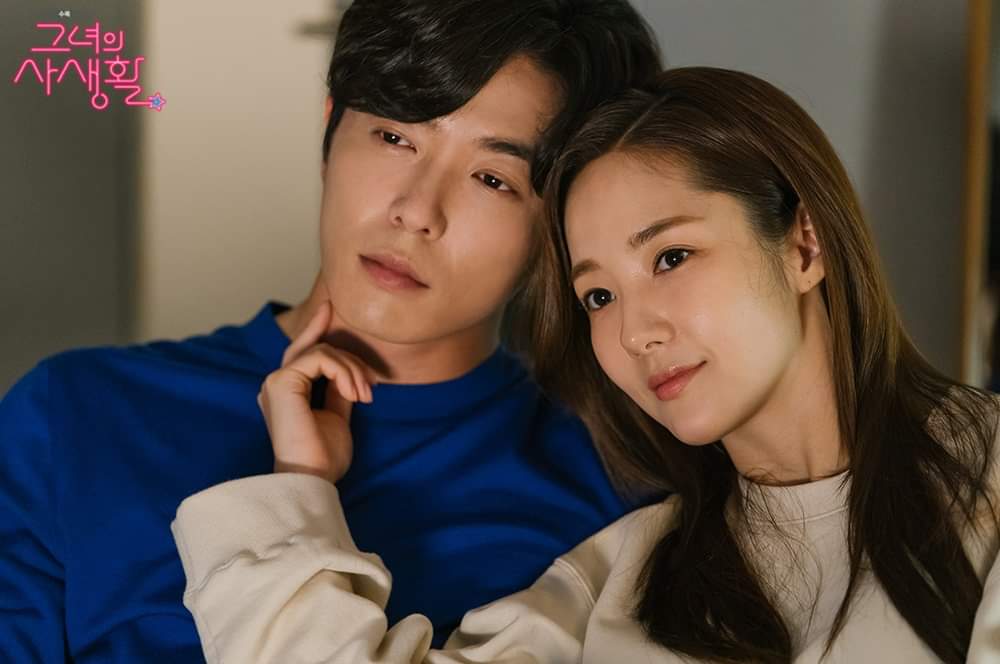 ---
Photos: tvN
Videos: S+one Music Entertainment
[wpedon id="3227″ align="center"]