Kang Yo-han sparks a war between the leaders of the Social Responsibility Foundation in The Devil Judge.
Yo-han tries to prepare his ultimate plan to bring down the corrupt leaders of the Social Responsibility Foundation. Ga-on reminisces his tragic past and is ready to team up with Yo-han to heal the wounds of his past.
aith_clouds_of_gold_and_blue watches The Devil Judge on iQiyi
 K-Drama First Look: The Devil Judge

What Has Transpired So Far…
Judge Kang Yo-han reveals to be against every member of The Social Responsibility Foundation, since the beginning of the story. He makes each way to expose the real intention of the leaders of this Foundation little by little.
First, he sentences the biggest investor of the Foundation. Then, he uses the son of the ministry of justice as bait to threaten her. Because she holds the secret of everyone in the foundation. Now that everything is in the right place, he started to reveal his true master plan.
In the recent live courtroom, Yo-han announces who will be on the next session of the courtroom. He surprises everyone when he announces the corrupt leaders of The Social Responsibility Foundation.
The leaders are furious, especially The President. People begin to doubt the government because of this. The President also released a statement. He asks everyone to report accusations of Yo-han and promises to give money if he finds an accurate report.
Ga-on, who's willing to help Yo-han, tells him that he should do everything within the law this time. He also tells him to not do any dirty tricks to get information about those people. Yo-han agrees to this so he began to move. Every leader is trying to backstab each other for the sake of themselves. Yo-han sees how selfish each one of them is.
However, these leaders give him fake documents. So his plans change and try to use this fake document as a real document to scare those leaders. Each one of them panics when Yo-han reveals about them backstabbing each other just to save themselves.
When Yo-han shared updates about it, he tells everyone that Ga-on will be a part of this plan and reveals to the public about the tragic death of his parents. Ga-on is angry because he does not want others to know that he is part of the case as well as sharing his past with the public.
No matter how upright and strong Ga-on is, he is still haunted by his past. Yo-han has an idea to make Ga-on open up his bottled feelings. He shows him the person responsible for his parent's death – the con artist who deceived his parents. Ga-on's bottled-up feelings suddenly burst, he immediately breaks down. Yo-han made a point to Ga-on not to be humane to someone who doesn't know humanity.
Meanwhile, the enemies are also trying their best to fight the war the Yo-han started. They have a lot of plans. However, everyone is in shock at the sudden death of the founder of The Social Responsibility Foundation, Mr. Seo.
He has a message of apology to the public and blames himself for everything and plea that it's not other leaders fault but his. It's a very brutal strategy that those leaders especially Ms. Jung, the cunning Secretary of Mr. Seo launched to make everyone guilty and change the game.
Ms. Jung is now appointed as the new Head leader of the Foundation. She is also the one responsible for Mr. Seo's death. It also revealed in the past episodes how obsessed she is towards Yo-han. She is a cunning woman who also has a secret agenda of bringing down the Foundation. She also manipulates people. Her new victim is Judge Oh, who is now doubting Ga-on and Yo-han.
Ga-on also has some little doubts about Yo-han. He tries to search for anything worth his doubt. However, Yo-han always tries to prove him wrong. Now he starts to think like him and just put his trust in himself. Together, they will fight this war and end it with victory.
---
The Devil Judge Mid Series Musings
This drama is absolutely exciting in every scene. Yo-han's character as an anti-hero is sufficiently engrossing. How it balances with Ga-on's upright personality is something fresh based on the yardstick of duos in K-Dramas.
The first half of the series is unpredictable, yet patient enough to convey the backstories of the lead characters. Ga-on's past is revealed in this recent episode. We can see how much he suffered when his parents died. We can also see how different Ga-on and Yo-han perspectives of justice.
Also Yo-han's past is devastating. that's why we can't blame for being a somewhat merciless judge. Their past reflects how they view justice and power.
While Ga-on is kind and fair to everyone. Yo-han isn't like that, he realizes that being kind is not enough to make everything around you right. You have to be righteous. It's also a valuable lesson we can get from this series.
Being kind is good, however, some people will only use your kindness. But when you are right, no one will abuse you and you can defend yourself because you're in the right.
Another thing to point is Ms. Jung's story. Ms. Jung is another anti-hero, in my opinion. At first, we can quickly perceive that she is one of those antagonists. However, we came to understand in episodes 7 and 8 that she might be a dark heroine too.
Her story is brutal and tragic. Her mother abused her when she was just a child. She was involved in child labor that's where she met Yo-han when she became their housemaid and lastly she was molested up until she was an adult by Mr. Seo.
Her sense of justice is blurry because she didn't attain justice or help from other people. That's why we can't blame her for being a cunning and vicious woman.
Where The Story Heads To?
So far, the real devil in The Devil Judge is not Yo-han. but the people within the foundation. who deceives people for their own sake. We've come to understand the title more as we reach the middle of the story.
Yo-han is like a devil when he creates his master plan. He brings chaos and war among people. He manipulates the truth and also deceives people however not for his own sake but for the justice.
The story is fast-paced and the plot twist is unexpected. It is such a  progressive drama. Moreover, it is twisted and melodramatic at times but lovable in its own way.
Some scenes are realistic and or reflect the truth about government and the justice system. Interestingly, the series is not overly constructed which further highlights the engaging characters.
As the plot reaches its rising action and the half of the story, we expect more exciting scenes and wait for the climax in the second half. Honestly, we don't know how could this drama can get more intense than it is now.
For the next episode, we can expect more action and a twisted war between Yo-han and the leaders of the foundation. The story keeps getting better and better. this just the start of the more fervent drama.
Catch up on the latest episodes of The Devil Judge In iQiyi and Viu!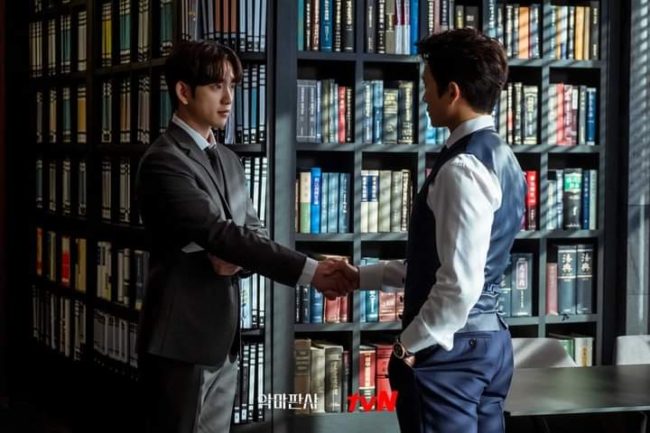 ---
Photos: tvN