Sell Your Haunted House gives a new meaning to spirit dispelling in K-Dramaland!
Sprinting to an unwavering run, the series showed no sign of inconsistency. Taking into consideration its horror-inducing narrative, overall, Sell Your Haunted House is a uniquely comforting story you never thought you need.
abbyinhallyuland watched Sell Your Haunted House on Viu
Episode Recaps: 01 & 02 | 03 & 04 | 05 & 06 | Mid-Series | 09 & 10 | 11 & 12 | 13 & 14 | Series Review |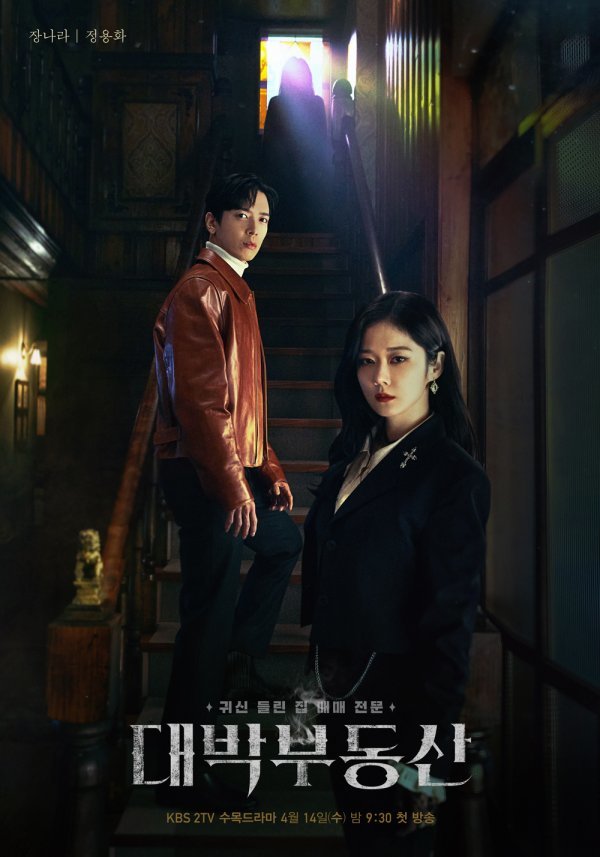 Main Cast: Jang Nara | Jung Yong Hwa | Kang Mal Geum | Kang Hong Seok | Ahn Gil Ho
Streaming Site: Viu
Thrill/Addictive Meter:
Overall Rating:
Rewatch Value:
K-Dramas of Similar Vibe:

The Cursed

|

The Master's Sun

| 
---
Sell Your Haunted House Plot Recap *Spoiler Alert
Hong Ji-a and Oh In Bum trace their history back to when they were young. At present time, they keep bumping at each other because Ji-a is a CEO of a real estate company specializing in banishing unrested spirits haunting land properties.
Meanwhile, In-bum is a con artist who makes a living by setting up a your-house-is-haunted ploy targeting people so he can sell a ghost-detector device.
When Ji-a realizes he is a psychic, and a unique one, she proposes for him to work with her so she can finally send off her mom who became an unrested spirit. However, their attempt did not bring a positive turnout.
But they decide to continue working together with the same intention of unraveling the truth of what happened years ago which caused their loved ones to die.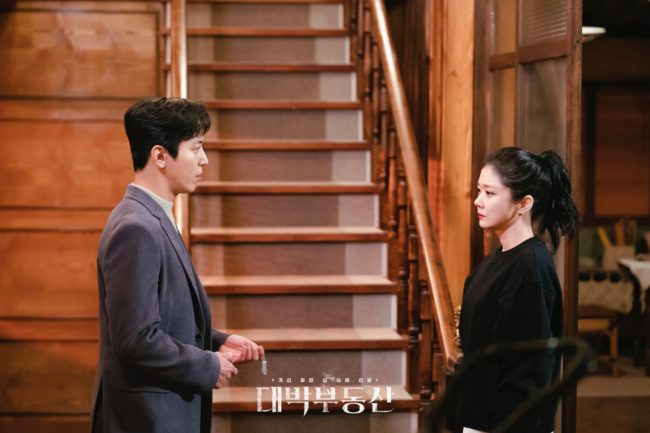 ---
The Exorcist and Her Special Psychic
Unfortunately, aside from painstakingly quelling the grudges of the spirits, they also face real-life evil in Do Hak-sung, a CEO of a land development company who instigated In-bum's uncle in committing arson.
When his atrocity went berserk, he orders his secretary to be killed upon learning she was in contact with Ji-a. Setting the building where his secretary lives on fire, it created another egg ghost mirroring the same wicked deed he caused in the past.
To prevent deaths from happening, Ji-a and In-bum proceed with their vanquishing plan of sealing the egg ghost spirit. But after they successfully do so, Do Hak-sung sneaks in and fatally stabbed Ji-a who caused all his troubles.
Surviving the stab, Ji-a confronts the villain who became an unrested spirit and possessed In-bum. In the process of sealing Hak-sung's wicked-to-the-core spirit, she loses her power. But without it, she finds a way to finally let her mother's spirit rest.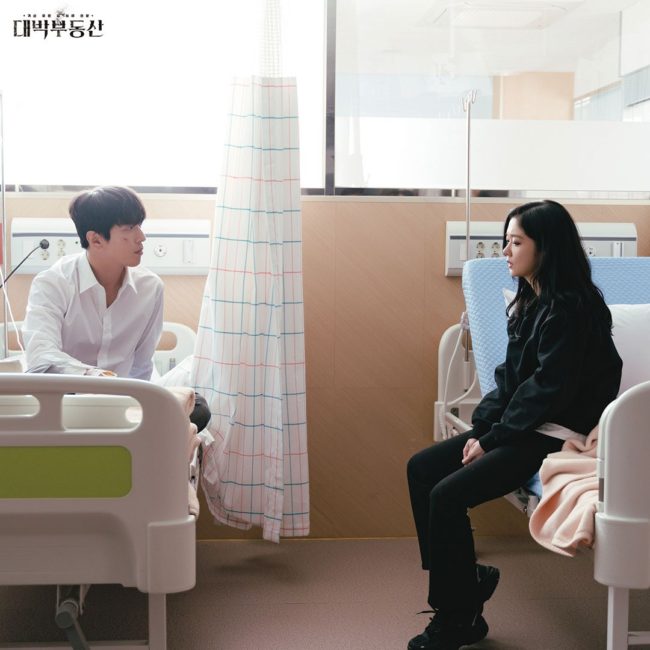 ---
Sell Your Haunted House Highlights
Eerie But Faint-hearted Friendly Narrative
Delving into the deeper meaning of creating connection and useless harboring of emotions that we don't need at all, the series surprisingly makes a consoling watch. For those who still feel daunted and get easily scared of spooky stories, you need not worry as the drama is generously layered with humor to neutralize the eerie mood.
What I like about the delivery of the ghost stories was the intention to encourage valuable lessons. It features cases about unfair treatments prevalent in society. Other narratives also impress with heartening lessons about different kinds of relationships.
Each ghost-obliterating mission has a touch of polished conception and execution while presenting the big picture of Ji-a and In-bum's connection. Sell Your Haunted House blended multiple moods and surprises in an engaging symphony.
Moreover, the drama also covered social issues often overlook like the case of the ghost painter who was used by a renowned painter and a building owner who took credit for a small business when he was not the one who flourished it.
It also left reminders on taking care of our loved ones especially our family like the father who vanished for her children not to be burdened; and the overachieving mother who inadvertently caused her daughter's death.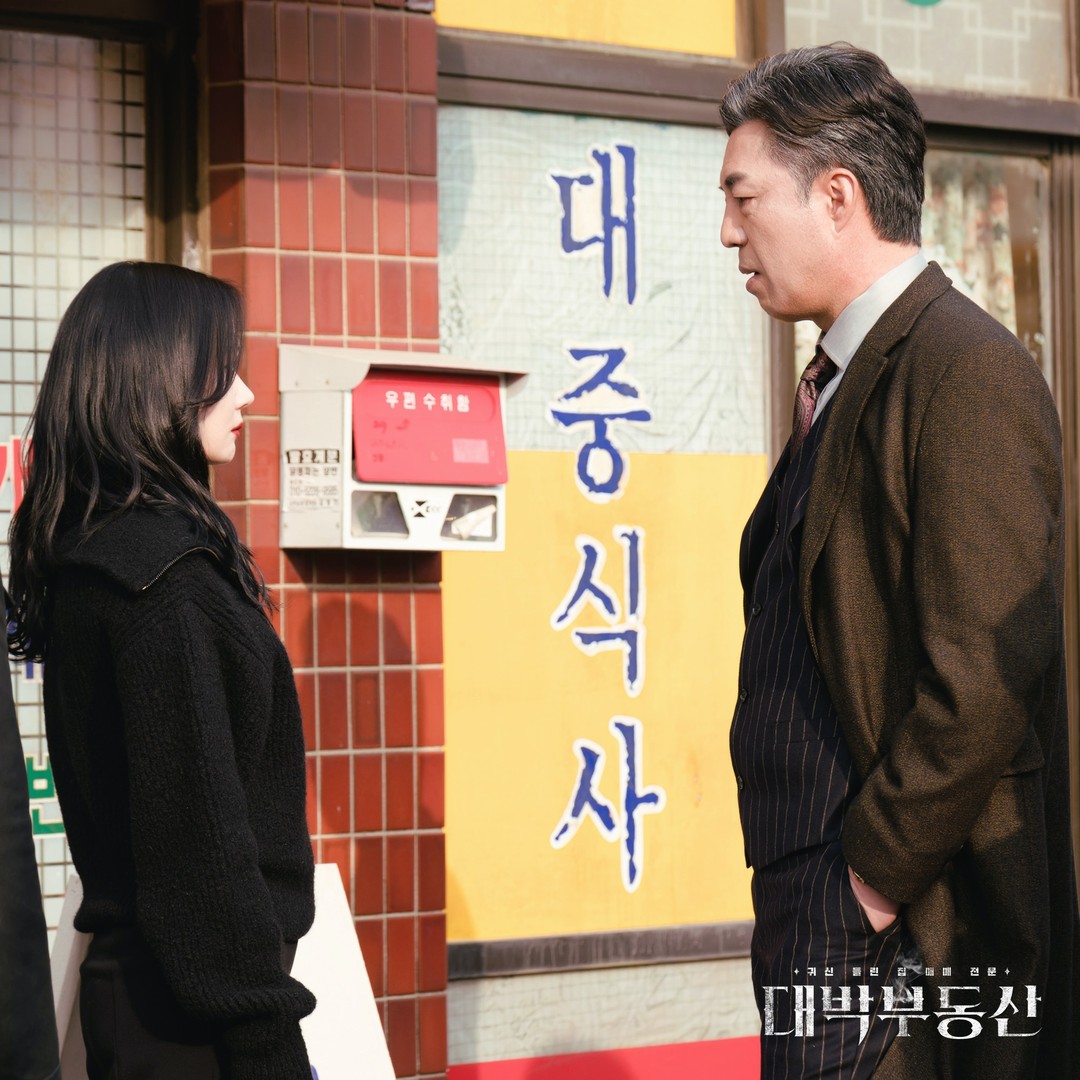 ---
Amazing Synergy of the Lead Cast
Individual portrayals of Jang Nara and Jung Yong Hwa melted well into the narrative. At the same time, their chemistry is worth applauding. The synergy also extends to the supporting actors: the sisterhood and brotherhood of the lead cast made the story neat through the funneled characterizations.
Although sporting a big cast in reality, because of the side stories, the drama maintained its fixation on Team Daebak Real Estate's goal to end the antagonist's bottomless depravity. As a result, the flow of the storytelling does not confuse. In fact, all the small tales featured commendable depictions of the actors in supporting and minor roles.
But of course, the bulk of the responsibility fell on the main cast who were all willing to be efficient in their roles. Notably, Ji-a's mom deserves a special mention for being the coolest and most loving ghost mom ever.
In-bum and Ji-chul's bromance is as endearing as the bond of Ji-a and Hwa-jung. From being leery of each camp's actions when they entered the contract, they became unstoppable as Fantastic Ghost Vanquishing 4.
Much credit should also be given to our land-greedy villain for keeping the annoyance level felt. Impliedly, his role is a testament to fear the living than the dead.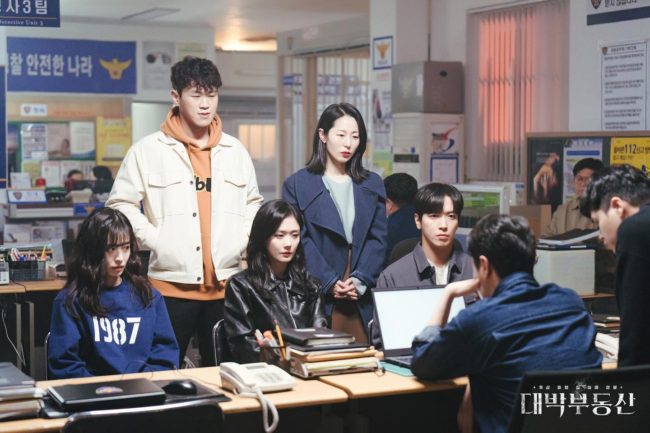 ---
Comforting Lessons About Life & Death
While packaged as a spooky show, what gravitated me to appreciate this drama is the reassuring precept on life and death.
We always hear how we have to value life for it is fleeting. The stories drawn from the unrested spirits gave thought-provoking realizations of the depth of pain felt by people left behind by their departed loved ones.
At the same time, the regrets of people who died untimely and who can no longer dream, love, and live.
---
Sell Your Haunted House Series Musings
Neatly closing the story in the finale episodes, the last two hours of Sell Your Haunted House were tightly packed with interesting twists and turns.
I swear I got a bit scared that they might decide to unseal Do Hak-sung spirit to check if that will fix the vanishing of Ji-a's powers. I always prefer dramas written with such clever focus since that's the essence of looking forward to the story each week.
That being said, this drama scores high with how it rendered its trajectory by allowing the side stories to shine. Coordinating it to the corresponding core conflict is an added perk.
Ji-a's story speaks about the beautiful love of a mother for her child and vice versa. Similarly, In-bum resonates with the message of how we always have the choice to change for the better.
Sticking to the story's potential, the writer of the series did a great job. After all, the story mixture was quite tricky. But the transitions of the featured tales intertwining to the backstory and current predicament are considered seamless. It didn't need romance or weep fest cards to salvage the situation.
Sell Your Haunted House might be the drama you would thank you watch this season because of its thrilling energy, palpable humor and engaging narrative.
---
Photos: KBS2
Videos: Jang Nara YouTube Channel