Monthly Magazine Home Episodes 7 and 8, start to disperse the meaning of "Home is where your heart is".  
Monthly Magazine Home expounds the simple story of a woman who wishes to have her own house someday and a man who sells houses for a living. As the story grows, so is the relationship between our main characters Ja-sung and Young-won.
aith_clouds_of_gold_and_blue watch Monthly Magazine Home on iQiyi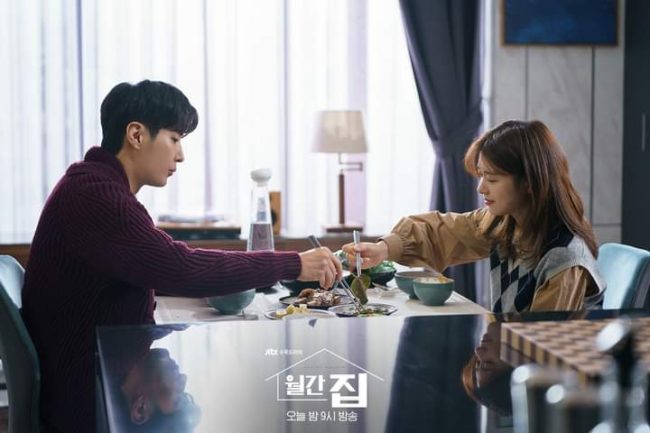 ---
Monthly Magazine Home Episode 7 and 8 Quick Recap
Ja-sung and Young-won are 'living together for a meantime because of the water leak in Young-won's apartment. They try to keep it a secret from their co-workers. No matter how hard they try to keep that secret some circumstances put them in slight danger.
Moreover, It's now time for their annual flea market where their sponsors donated luxurious items to auction. The highlight of the auction is a branded bag. Editor Eui-joo wants that bag however she also wants Young-won to own it since her old bag is now useless.
Young-won doesn't want to join the auction because she is thinking of her savings. Meanwhile, Gyeom thinks it's a great idea to bid for that bag and give it to her. On the other hand, Chan suggested that he should confess while giving that bag to her.
They also decide to put a free real estate consultation booth for Ja-sung.  However, the consultation booth didn't go well because Ja-sung is giving people harsh advice. He said that it's not his style to give people false hopes.
Because of this, someone posted malicious comments about their flea market, especially about the consultation booth. Soon, they found the culprit who told them that what he posted was true. Nonetheless, it affected the flea market.
They end the event with the much-awaited auction. A lot of people including employees bid for the bag. Gyeom tries to bid for that bag too. However, he stops bidding when Editor Eiu-joo and Sang-soon suspect that he will give that bag to his girlfriend or special someone.
Young-won is worried for Ja-sung because of those malicious comments. So she buys a gift for him as a thank you gift for letting her stay in his house and to make him feel better. However, Ja-sung doesn't feel bad because of those comments. He just feels sad because that day marks the death anniversary of his parents. When Young-won knows about it, she went to check on him if he's ok.
The next day, everyone is surprised when Young-won received the luxury bag from the auction. The bag is sent from an anonymous fan of hers. Everyone is delighted for her except Ja-sung. He seems very jealous of Young-won's secret admirer. Editor Eui-joo helps her to find out who is her secret admirer. She tries to ask Gyeom for help too. Then it's revealed that Gyeom is Young-won's secret admirer.
He plans on confessing to her using that bag. However, Young-won feels that she is not deserving of receiving such expensive things. So, she decides to return that bag to her admirer and takes only the message that comes with it because it's the real gift for her. Even though,
Gyeom's plan didn't work he still feels happy that Young-won kept a piece of a gift from him.
Ja-sung's jealousy melted when he heard about the news and thinks that Young-won will never date that guy so he feels at peace. Because of this, he asks her if she can join him in buying some furniture for his empty house. She said yes and he buys whatever she wants or likes. Now his house is filled with decorations and much more lovely now than ever.
He spends a day with her. They eat together and watch movies in the living room. They're closer now. However, this happy state didn't last when Young-won heard a conversation between Ja-sung and one of their clients who happen to know about them living together.
She heard Ja-sung said that he only takes her to his house because he is accountable for her apartment and he only cares about the profit from her rent and not her. This frustrates Young-won and thinks that she misunderstood him again.
So, she asks him to stop appearing good to her if it's all for the money. Ja-sung explains that it's not true and he wants to be good to her and the truth is that he cares for her.
---
Monthly Magazine Home Mid series Musings
Ja-sung is now the epitome of a tsundere or a person who appears cold to everyone but soft and lovely to his loved one. He likes Young-won but he's just being in denial about it. Also, his character development is more evident in these episodes with the addition of more emotions and layers.
Their love story is now blooming and we can't wait for more heart-fluttering scenes. We also want to see the love triangle between them and Gyeom to be more obvious. It will be an exciting scene to see.
Also, we rejoice when Editor Sang-soon finally got the subscription he always wanted. Even though something bad happened to his relationship, we are still happy for him. He was one of the characters that make the series interesting and funny. This scene makes us want to beg the writers to give Young-won her dream house as soon as possible.
Episodes 7 and 8  are funny and romantic all in all keeping the progressive rom-com story. We can't wait for what the next episodes could offer.
Where the story goes to?
The story can be a bit of a cliche but it has some charming points that make it stands out from other rom-com genres with the office setting. For example, how it shines a spotlight not only on the two main characters but on the supporting characters. It's refreshing to see supporting characters have their own story that doesn't only revolve around the protagonist.
Another is the important lesson we can get in terms of saving and planning for our future goals like owning a house. That's is why this drama is very suitable for young adult, who wants to know more about dealing with their finances. It's something that we can always get from a K-drama.
I can see that the story can go to its goals like giving Young-won her dream house and Ja-sung to open his heart more to people. We can already see the development of their relationship and their characters. However, I also wanted Young-won to be a round character like Ja-sung rather than a flat one. Because it's very common for a female lead in rom-com to have that kind of character.
The plot is not a major issue because it's simple and easy for audiences to understand because again of its predictable route. Still, it's a frustrating note when Ja-sung and Young-won are good with each other in this scene, and in the next scene, they're not. The series is in the middle of the story yet the plot doesn't have much change at all. It's progressive, but I hope that they put much effort to make the development more pronounced.
The story is light-hearted like how we expect a romantic comedy to be. In conclusion, it is still worthy to root for this drama for the life lessons it brings to the table.
Catch up on the latest episodes of Monthly Magazine Home on iQiyi!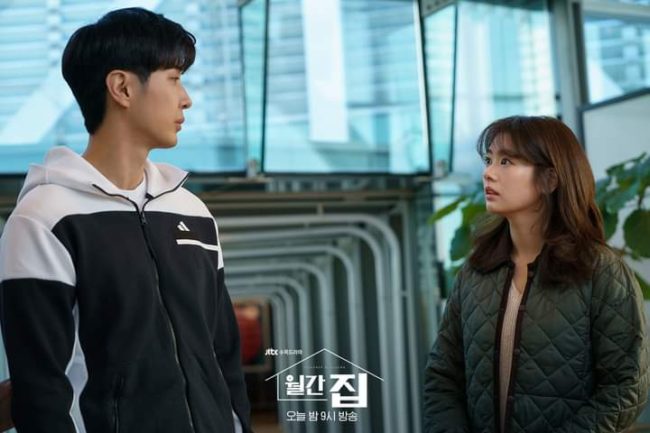 ---
Photos | Videos: iQiyi