Reconciling life-affirming lessons from heartening and regretful stories of departed people, May I Help You offers therapeutic moments delivered convincingly by its vibrant and perceptive cast.
Braving the pain of losing someone permanently is elaborated genuinely in the series along with the understanding that we have to live happily after sending off our dear departed ones because they lived for that very same wish.
abbyinhallyuland watched May I Help You on Prime Video

Episode Recaps: 01 & 02 | 03 & 04 | 05| 06| 07 | 08| 9 & 10 | 11 & 12 | 13 & 14 | Series Review |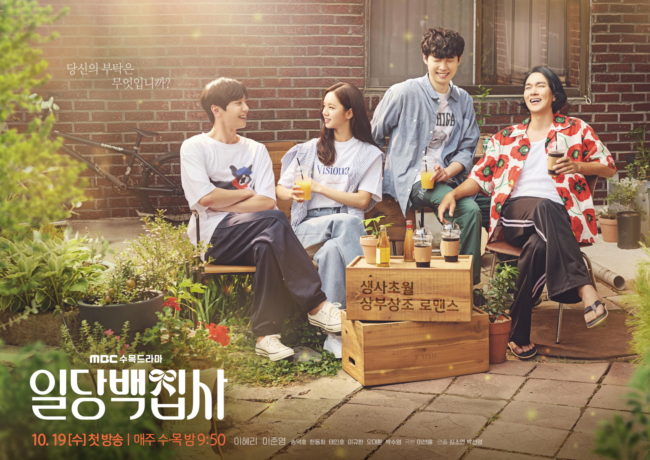 ---
May I Help You Finale Week Highlights
Owning up to his mistake, Hae-an is convicted of crimes he purposely hid. He promises Tae-hee that he will live and suffer in guilt for the rest of his life. For days, Tae-hee takes his time to heal from the pain and when he has come to terms with the emotional pain, he goes to Dong-joo for a comforting embrace.
Meanwhile, learning about his father's job at an apartment complex, Dong-joo also decides to leave her work at the funeral house and study what her father hopes she has been doing. Her last wish to be granted, unfortunately, broke her heart big time.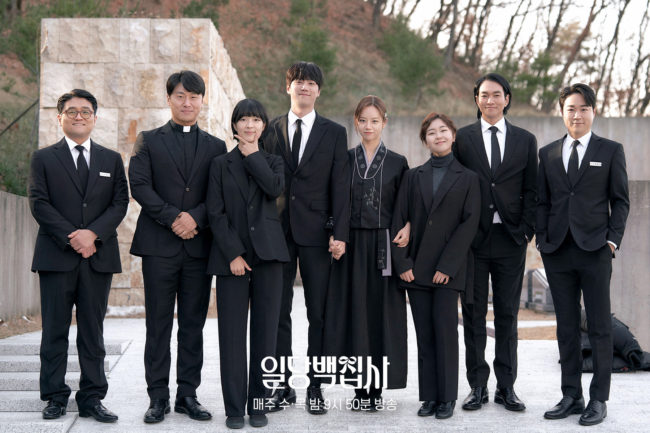 ---
May I Help You Quick Plot Recap
To escape her mysterious fate of fulfilling dead people's wishes, a funeral director collaborates with an errand service worker who can do any request from clients.
Working as a funeral director, Baek Dong-joo (Lee Hyeri) gets the unfortunate stigma of the bad luck her career is associated with. On top of that, she has a strange ability to see ghosts. Thus, most "dead" clients request extra service for their peaceful sendoff.
In a twist of fate, she gets tangled in a mission of granting the deceased wishes or she suffers incessant haunting from them.
Initially, deciding to leave the work, she ends up staying in the hopes that her mission will really free her of being a cryptic ghost magnet.
Thus, her father is not aware that she's not studying for the civil service exam.
Her life entwines with errand service worker Kim Tae-hee (Lee Jun Young), who used to be pursuing medicine. But when his little brother died, he put the blame on himself.
Through Dong-joo, he was able to liberate himself from the pain and claim justice for his brother's death which was almost overlooked.
Together, they heal each other's pains and share a life full of love after sending off their beloved departed ones peacefully.
---
May I Help You Series Highlights
Appreciation to People Working At Funeral Homes
For such an admirable career, May I Help You successfully put forward the respect we owe to people working at funeral houses. They experience discrimination which is sadly warranted by closed-minded people.
Hopefully, Dong-joo's story paves a way to break that stigma. As we have seen in the series, her work is as rewarding as any job. Truth be told, it is even more, since the reverence in caring for a deceased person can only be done properly by funeral home directors and workers.
Hopefully, the story would spur a rightful appreciation in funeral directors.
---
Lessons on Creating and Keeping Human Connections
Chance and fated encounters that hold meaning to someone's future left strong impressions in the duration of May I Help You. Stories that evoke healing lessons are unsparingly provided in the series as expected for its life-and-death premise.
Present for the most part of the series, accepting the aftermath of a beloved's death honestly can be taxing especially for people watching who experience a recent loss. Nevertheless, what's remarkable in the series is the delivery of those nuanced realities needed to be confronted by a grieving person.
Forgiveness, dysfunctional family relationships, building heartfelt relationships, unrealized dreams, and unsaid words are also highlighted abundantly in the series. Substantially providing warmth to each featured side story, the series ensured its mission to present that healing can be done alone, more so, with the comfort of someone who understands you.
---
An Extraordinarily Conceived Love Story
Explicating that by building a connection through empathizing with each other's pain; we witnessed how love grew between Dong-joo and Tae-hee. Notably, the series smartly moves to transition phases to highlight the romantic line by subduing the featured sending off stories each episode.
Remarkably, balancing the romance and the healing intentions of the narrative is one of the strongest points of May I Help You. There are abundant signposts to show the way for the love to blossom between the lead pairing while making us invested to root for it as well.
They efficiently develop their connection coming from previous misunderstandings in their past. They communicate more and know how to read situations, especially those that need to be clarified.
By sharing more personal details, their connection keeps growing. People can pick up on how they did not rush the process and were both willing enough to understand each other.
---
May I Help You Series Musings
Capitalizing on messages about death and living, May I Help You featured affecting stories relevant to a wide range of audiences. Foreseen disheartening moments and instances of regrets are expected in the plot.
Inevitably, this drama is not for people who don't want to cry. Poignant scenes during the send-off moments are abundant, so consider you're forewarned.
Emotionally leaving an inspiring message of how memories become small joys as we grow old, the story brims with healing and an addicting hook. Each story featured stands alone by gifting a profound message that synchs well with the main picture and conflict of the narrative.
It's hard not to notice how impeccably drawn Hye-ri's character is in this series and how she's inspiring viewers by showcasing her vulnerability, bravado and genuine heart. In the last episode where she poured her emotions into capturing what someone feels to send off a loved one suddenly, prepare rolls of tissues because you might need them.
Ultimately, the series dwells on how our ability to love is a special feeling that we can share with a fellow human who needs it and with our loved ones. Generously giving does wonders that might not reflect right away. The love we kindheartedly share can even sometimes save a soul on the brink of giving up.
Wrapping up the story nicely with the connection of the characters featured in the story to be traced back to a fire incident that saved baby Dong-joo's life, it complemented the whole picture and message of how acts of kindness ripple miracles.
Exquisitely consoling, May I Help You is a comfort drama when you need to find solace or when you want to be reassured that discovering happiness is always possible even when you are in the process of enduring emotional pains.
All episodes of May I Help You can be watched on Prime Video!
---
Photos: MBC Drama
[wpedon id="2271″ align="center"]