Every K-Drama fan will be treated with engrossingly different flavors of stories in the new roster of March 2022 Korean Dramas.
Covering crime, workplace, romance and fantasy genres; the dramas to launch also marks highly-anticipated projects from Lee Min Ho, Kim Hee Sun, Kim Dong Wook, Jin Goo and more.
Make sure to keep tabs on the latest dramas coming up next month!
Best Korean Drama List: 2000 – 2005 | 2006 – 2009 | 2010 | 2011 | 2012 | 2013 | 2014 | 2015 | 2016 | 2017 | 2018 | 2019 | 2020 | 2021 |
2022 Monthly K-Drama List: December 2021 | January 2022 | February 2022 |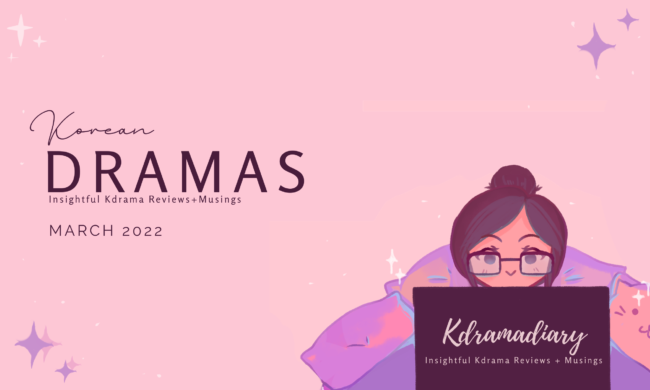 ---
What's Currently Airing?

MONDAY-TUESDAY

Business Proposal (SBS)

WEDNESDAY-THURSDAY

Thirty, Nine (JTBC)
Rookie Cops (Disney+)
Grid (Disney+)

FRIDAY-SATURDAY

Tracer (MBC)
Through The Darkness (SBS)

SATURDAY-SUNDAY

Twenty Five Twenty One (tvN)
Forecasting love and Weather (JTBC)
*Note that daily, weekly and some dramas are not covered by kdramadiary due to the unavailability of video sources on legit streaming platforms.
Our team watches on iQiyi, Netflix, WeTV and Viu. In addition, we cover almost all dramas, but in compliance with DMCA rules, for some dramas, we have decided to only do the regular First Look/Mid-Series features plus Full Series Review.  You can always refer to our coverage listed on the sidebar or on the header section.
---
Coming Up: March 2022 Korean Dramas
Crazy Love | March 07
Crazy Love chronicles the story of a genius Mathematics tutoring center CEO Noh Go-jin (played by Kim Jae Wook). He receives a death threat and tries to seek out the murderer by pretending to suffer memory loss.
He even enters into a sham marriage with his introverted secretary Lee Shin Ah (played by Krystal Jung), who is diagnosed with a terminal illness. Between them, a scary yet sweet romance blossoms.
Meanwhile, Ha Joon plays Oh Se-gi, vice president of GOTOP education. He is an ideal model for a perfect boss who has a warm appearance, personality and manners.
However, he has a secret that he especially hides from Go-jin. This adds interest to the role he will play between Go-jin, who is crazy about money, and Shin-ah, who is crazy about revenge.
The show is directed by Kim Jung Hyun who was behind dramas Jugglers, My Fellow Citizens and Awaken. Backing up the project is leading studio Story Hunter Productions.
---
Kill Heel | March 09
Kill Heel tells the stories of women enduring the intense competition in the home shopping world. They thrive and compete for power and success as hosts of home shopping shows, considering they have different personalities and skills.
The series stars Kim Ha Neul, Lee Hye Young, and Kim Sung Ryung.
Noh Do Cheol will direct the new drama with the help of writers Shin Kwang Ho and Lee Chun Woo. Previously, he directed Partners for Justice and Ruler: Master of the Mask.
tvN Unravels A Chaotic World of Home Shopping In "Kill Heel"
---
A Superior Day | March 13
An ordinary father, a contract assassin and a serial killer are the main characters of OCN's riveting new series A Superior Day.
To be aired on March 13, the series chronicles a 24-hour runaway thriller in which the most ordinary man has to kill the serial killer living next door to save his kidnapped daughter.
Playing the role of Lee Ho-cheol, Jin Goo transforms into a desperate father who can't afford to waste time because his daughter's life is at stake.
Ha Do Kwon suits up as contract killer Bae Tae-jin who is on a mission to chase after serial killer Kwon Si-woo, portrayed by Lee Won Geun.
Jin Goo Has 24 Hours To Save His Daughter In Thriller Series "A Superior Day"
---
The King of Pigs | TVING | March 18
Based on the animated feature film of the same name, The King of Pigs narrates the story of people who are reminded of memories of violence from a message left at the scene of serial murder case 20 years ago.
The series stars Kim Dong Wook, Kim Sung Kyu and Chae Ji Ahn.
---
Soundtrack #1 | Disney+ | March 23
Soundtrack #1 narrates the story of a man and a woman who have been best friends for 20 years. They stay in the same house for two weeks and get to know each other's feelings.
It hints at the friendship-borderline-romance connection between Han So Hee and Park Hyung Sik!
"Soundtrack #1" Introduces Special Friendship Between Park Hyung Sik and Han So Hee
---
Pachinko | Apple TV+ | March 25 *special drama
Streaming Site: Apple TV+
Produced in three languages: Korean, Japanese, and English – the eagerly-awaited Apple TV+ series warmly captures a large-scale narrative.
Starring Youn Yuh Jung, Lee Min Ho, Jin Ha, Anna Sawai and Kim Min Ha, the series is based on the novel of the same name by Min Jin Lee.
It is a story that begins with forbidden love. Notably, it draws an unforgettable chronicle of war and peace, love and parting, as well as victory and judgment.
Pachinko will feature backstories of the characters in  Korea, Japan, and the United States.
"Pachinko" Launches Prepossessing Trailer Featuring Youn Yuh Jung, Lee Min Ho, Kim Min Ha and More
---
Photos: Respective networks of aforementioned dramas